Articles
ERP Systems--New and Improved
Sunday, July 1, 2018
Nearly five years ago, Connecticut Spring & Stamping (CSS), Farmington, CT, was celebrating its growth while lamenting the limitations of its aging ERP system. The family-owned manufacturer of custom springs, progressive stampings, fineblanked stampings, machined components and assemblies for customers in the medical, aerospace, defense/firearms, transportation and consumer-products industries, needed a software change. CSS management turned to the Advanced Planning and Scheduling (APS) software supplied by Global Shop Solutions (GSS), The Woodlands, TX.
"Our previous ERP system lacked the ability to efficiently schedule our 600 work centers, which resulted in an unsatisfactory ontime delivery rate (72 percent)," says Dave Fischler, CSS vice president of finance, adding that the company set out to identify a "robust and completely integrated system for handling everything a manufacturing job shop needs to do."
In CSS's case, that's a lot. The company moves thousands of part numbers through its work centers, with many of the parts having multiple secondary work centers to schedule, and with some requiring as many as 28 operations, inhouse and at offsite vendors.
"Based on the extensive routers we create for every part," explains executive vice president Steve Dicke, "the APS tells us when we need to do something in each of our work centers. It gives us the lead times and lets us know when parts need to come out of a work center to keep us on schedule. And, we can see the available capacity of all machines at any given moment, which allows us to ensure that we can deliver before promising specific due dates to customers."
In one recent quarter, the shop achieved a 97.5-percent on-time delivery, an all-time high for CSS. "The visibility of data in the system ensures that we don't over-promise and under-deliver," adds Dicke. CSS also has seen its sales climb by 50 percent, in part due to newly found visibility into its operations. Although some growth has come from new prospects and customers, most has come from new-product development with the company's existing client base.
"When we deliver on the dates we promise, it gives our customers confidence in what we can do for them, so they come back to us," says Fischler. "As our existing customers have grown, we've been able to grow with them by proving our capability and getting the product to them on time."
Instant Access to Complete Data
CSS stations 45 graphical-user-interface terminals around the shop floor to give production workers instant access to data needed to stay on schedule. "Everything they need to know is right there," says Fischler.
Fischler says that CSS also has achieved a high level of materials-management sophistication and precision using GSS Mobile CRM (customer relationship management) software. CSS barcodes everything that comes in the receiving door and immediately issues it to a job or inventory. All completed products are barcoded as well. In between, CSS uses GS Mobile to facilitate fast, flexible materials movement in real time.
"Using mobile scanners in receiving and in the warehouse gives us superb lot control and highly accurate inventory tracking," Fischler says.
Customization Simplifies Tracking and Processing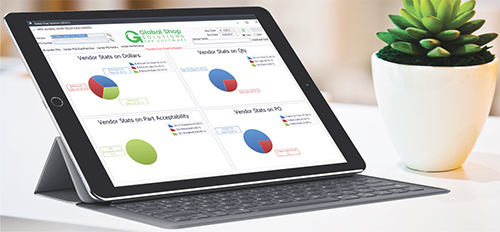 Fischler and Dicke also call out the software's Global Applications Builder module, which enables users to customize the software without changing the underlying code. For example, CSS attaches multiple certifications when shipping most products. Previously, this required using a work order to manually track the certifications for all raw materials and outside services used on a job.
CSS also has created custom downloadable dashboards, including one called Outside Processing, which provides a quick snapshot of every job sent out for processing and when it's due back. Other custom dashboards include shipping, purchasing, sales history and shipping/sales order.
When it comes to tracking costs, Fischler says that the seamless integration of the Job Costing Accounting software enables financial documents to be produced more quickly and accurately while providing the company with a better handle on costs. "The accuracy of costs in the system helps us determine what to sell a part for," he says. "We also can look at parts that have the lowest margins to see where we can improve processes or what we can do to fix the profitability of any particular part."
Global Shop Solutions: www.globalshopsolutions.com
Cloud ERP by Plex, Now with Mobile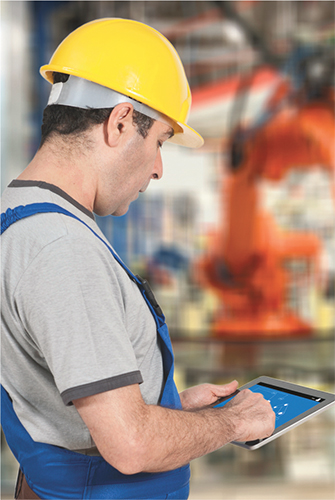 Several more software innovations are available for metal fabricators looking to improve efficiencies. Among them—cloud ERP by Plex Systems, Troy, MI. The system delivers the software as an elastic, flexible service without the need for internal IT infrastructure management. And, when it's coupled with mobility options, the combination is powerful.
Examples of this come from Plex customers that find cloud-based ERP to be a tool for fast, inexpensive scanning of inventory. Some have moved almost exclusively to mobile tablets in the factory, running the Plex Manufacturing Cloud over an Internet browser. For scanning, metalformers use small, inexpensive consumer-grade scanners linked via Bluetooth to those tablets. Others create their own scanners, perhaps by combining an Apple iPod running the Plex Manufacturing Cloud mobile application with a Bluetooth sled, creating a touchscreen scanner that also runs ERP.
Most recently, the company released Plex Mobile, a native mobile app that works as a seamless extension of the Plex Manufacturing Cloud. It enables workers to handle key business-critical shopfloor and administrative responsibilities, and access and share relevant information real-time from mobile devices. Available for download through the Apple Store, Google Play and Windows Marketplace, the app features role-based menus and functionality made to support specific operators and responsibilities. This approach improves workforce efficiency and the accuracy of data capture, while eliminating gaps in the manufacturing process for improved traceability. Initial app functionality includes:
Shipping and Receiving, including customer shipping, finalize by container, finalize by shipper, and interplant shipping and receiving;

Inventory Management, including cycle count; manage container, location, master unity and move; and search part location;

Human Capital Management, including workflow management, employee contact and support; and

Production Management, including load and unload work center and record production.
Plex Systems: www.plex.com
Feature Upgrades by Epicor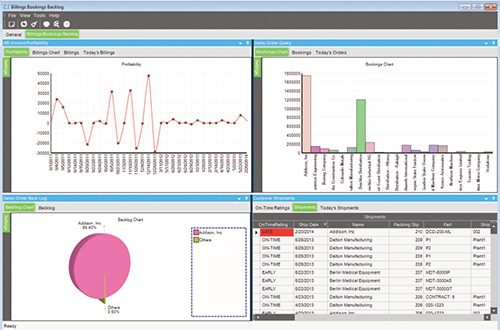 The latest ERP version by Epicor Software Corp., Austin, TX, is the company's third major release in the past 13 months. "Like its predecessors," says Scott Hays, Epicor's senior vice president of product marketing, "it delivers cloud-enabled, industry-specific functionality, globalization and localization, mobility, and action-oriented analytics, with continued improvements in customer experience, ease-of-use and performance."
Marquee capabilities include mobile Field Service Automation (FSA) and Customer Relationship Management (CRM). FSA features integrated mapping to support optimized scheduling and dispatch, and robust workflows to automate processes for asset management; contract, warranty and service-level agreement; and management of service inventory. It can be used with smartphones, tablets and laptops for online and offline communications with the back office. This enables enhanced productivity and efficiency across all service workforce facets, allowing for improved response, reduced costs and improved customer satisfaction.
CRM supports digitally enabled sales engagements for improved efficiency and productivity in buyer/seller experiences and revenue acceleration. Mobile CRM syncs and updates with Epicor ERP data in real time, enabling sales teams to access vital information such as real-time stock status and customer credit availability—whether in the office or in the field—via any mobile device.
Other key features include visual analytics capabilities via Epicor Data Discovery, and smart inventory planning and optimization.
Epicor Software Corp.: www.epicor.com
Updates from Macola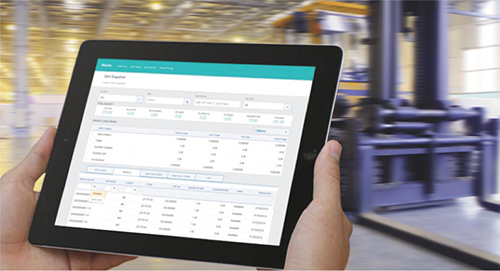 In April of this year, Macola Software, an ECI Software Solutions company, released Macola 10.7, the latest version of its ERP and business-management software. Macola 10.7 expands the Macola ecosystem with new third-party application program interfaces (APIs), and offers customers the convenience of accessing and analyzing data in real-time and at a glance, giving them critical status updates at every step in the supply chain. Macola also streamlined key processes within the platform, including order entry, billing selection, searching and filtering orders, quoting and creating credit memos.
Key features and benefits:
The end of-version lock. By creating a powerful and flexible extension layer to the platform, Macola will virtually eliminate the "version lock" that has plagued ERP systems for generations. This liberates users from the fear of upgrading.

An expanding ecosystem. Macola 10.7 features hundreds of new API functions, ensuring visibility of real-time data and control of enterprise processes through integrated third-party apps.

Doubling down on user experience and streamlined processes. Macola 10.7 incorporates convenience features such as at-a-glance status indicators that instantly let customer-service personnel determine the status of orders. It has a redesigned features and options configurator—dramatically simplified to increase speed and simplicity when entering orders.
Macola Software: www.macola.com
ECi Solution for Consolidation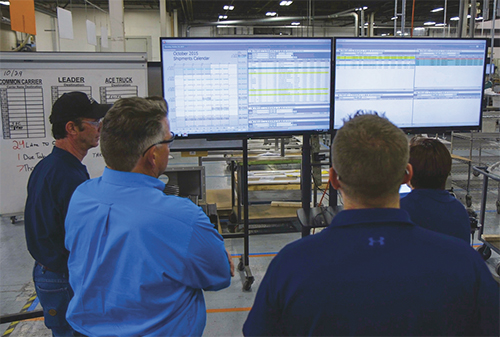 M1, from ECI Software Solutions, Fort Worth, TX, ideal for manufacturers looking to consolidate data scattered across the organization and connect critical processes. In addition to the software's production module, the system has seven others—sales, engineering, inventory, purchasing, quality assurance, shipping and accounting. Twelve additional modules can be added to customize the software for specific customer needs, including CAD and advanced business reporting.
Users can customize layouts, grids and reports down to the field level, while single-click access provides metalformers with simple access to important information. The latest release also has enhanced features for cost of goods sold, for precise job costing; first-in, first-out/last-in, first-out inventory control; and improved scheduling functionality.
ECi Software Solutions: www.ecisolutions.com
WorkWise Includes Heads-Up Feature
The latest ERP offering by WorkWise, Menomonee Falls, WI, version 9.10, contains enhanced shop-scheduling, estimating and financial-management capabilities. The Heads Up in-board alert engine has more than 200 "events," monitored to anticipate problems and reach out to the appropriate person. Users can subscribe to events and even filter the data to provide as much granularity as needed.
In addition, the business-metrics and mobile-ERP apps offer stronger calculation tools and key performance indicators. Further, scheduling features consider machine and tool availability, as well as employee skills. Also included is a set of priorities that enable the software to pick the right resources and alert the right person if a problem is anticipated.
In addition to these capabilities, a Google-like search has been added to the user interface. This not only provides a comprehensive, hyperlinked results display with detail provided via a mouse-over, but also returns a more focused list of results.
WorkWise: www.workwisellc.com
IQMS Adds New Track and Trace Module
IQMS recently announced a comprehensive new Track and Trace module to provide manufacturers with the insights and intelligence to ensure quality and enable accurate reporting and tracking, to support audits and compliance. The IQMS system combines robust MES and ERP functionality to provide an end-to-end solution.
Expanding on track and trace functionality, the new module provides manufacturers with the additional data, insights and intelligence they need to easily and accurately provide documentation and product tracking, to react and respond to recalls and meet regulations and quality audits.
It includes the ability to:
Improve production scheduling with visibility into availability and inventory levels of parts and subassemblies;

Increase customer-service levels with timely and accurate order status information;

Gain greater visibility into the product lifecycle to discover how a defective part was first introduced into production;

Easily identify finished goods, components and raw materials associated with a recall by lot number, serial number and other identifiers as they move up and down the supply chain; and

Improve visibility into machine and work-center quality and efficiency to predict patterns and anticipate when defective parts are in a supplier delivery.
"Implementing a track and traceability framework has been a standard best practice among highly regulated industries for years," says IQMS CEO Gary Nemmers. "However, with quality and short time-to-delivery now top factors in defining manufacturers' success, more companies are employing track and trace to quickly identify and mitigate issues before they impact their customers."
IQMS: www.iqms.com
xTuple Adds Third-Party APIs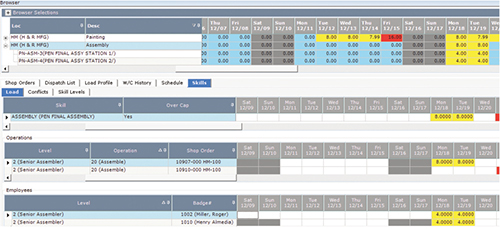 Earlier this year, xTuple open-source ERP released the latest version of 4.11, offering new third-party APIs. The release offers users quicker access to real-time data at-a-glance, and gives decision-makers critical status updates at every step in the supply chain. The release also streamlines key processes within the platform, including order entry, billing selection, searching and filtering orders, quoting, and creating credit memos.
At-a-glance status indicators instantly let customer-service personnel determine the status of orders. The release also features a redesigned options configurator—simplified to increase speed and simplicity when entering orders. Also, xTuple 4.11 adds a landed-cost feature to support import-export activities; improved return authorization reporting; expanded image, document and file management; and improved CRM functionality for new-customer prospecting.
Other additions: quality-control improvements to help companies better meet standards of excellence and document regulatory and quality compliance for ISO and other standards; and a PostBooks community edition.
xTuple: www.xtuple.com MF
See also: ECI Software Solutions, Epicor Software Corporation, Global Shop Solutions, IQMS Manufacturing ERP & MES, Plex Systems Inc., Workwise Software, xTuple, Macola Software
Related Enterprise Zones: Software
---
Reader Comments
Posted by: CRM software Calicut on 11/19/2019 3:54:29 AM - URL: https://www.getlead.co.uk/
This is really informative. I have been searching online for an effective system.I think this is the one. Thank you so much! More power to you and to your site.
---
Visit Our Sponsors