"I have tried a couple other brands, but those two plasma cutters are still operational, doing the job every day," Hagood says.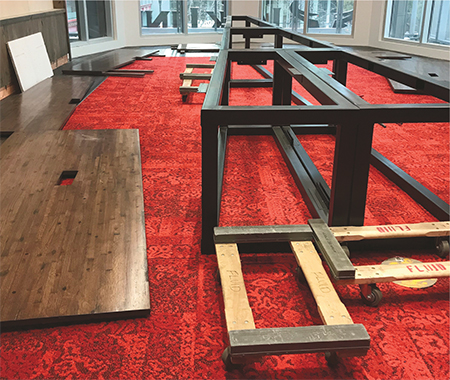 With a primary mission to recycle, reclaim and reuse, EcoVet assembles products from wood, mostly oak, and metal, mostly aluminum. Otherwise, semi trailers would be shredded and all nonmetal components landfilled.
Impressed by their dependability and low maintenance requirements, Hagood and EcoVet have continued to select Hypertherm equipment. Today, the roster includes those originals as well as a Powermax45XP purchased last year, Duramax Hyamp long torches and a brand-new product, a torch sled accessory purchased earlier this year.
The Powermax line of plasma-cutting and gouging systems, which depending on the unit can cut metal to 2.25 in. thick, is built to withstand heavy-duty use in demanding industrial environments, according to Hypertherm officials, which makes the line ideal for EcoVet's needs.
The Powermax125, one of the units dedicated to cutting the trailers at EcoVet, offers a 100-percent duty cycle, 1-in. mechanized pierce capability and rapid metal removal. It features Hypertherm's Smart Sense technology that automatically adjusts gas pressure for particular applications. The Duramax Hyamp torches provide versatility for hand cutting, portable automation, X-Y table cutting, extended reach cutting (a must for EcoVet), and robotic cutting and gouging.
Demoliton work at EcoVet begins as crews use the plasma cutters to slice off a trailer roof, and then the walls. From there, they flip over the trailer and, again using the plasma cutters, burn off bolts, allowing wood to fall to the ground. The wood then is cut according to customer needs. The trailers supply the majority of metal used in EcoVet's furniture designs, and the company even employs a sweeper that collects metallic fragments from the deconstruction site to ensure that nothing goes to waste.
After deconstruction, employees, including many veterans, fabricate custom furniture pieces in EcoVet's well-equipped shop. The company strives to maintain a 50-percent-veteran workforce.
"We use every facet of that trailer, through recycling, reselling or rebuilding," Hagood says. "When we make something it is a piece of art, a one-of-a-kind product using the unique character of the wood—mostly oak—featuring marks from forklifts, pallet jacks and even paint. This furniture is something that can be passed to your grandkids because it is unique and is built to last."
Again, the plasma cutters play a major role in keeping the company moving forward.
"We try to deconstruct two to three trailers per day, and to achieve that level of productivity we need to have the right equipment," says Hagood. "Our employees like using the Hypertherm plasma cutters because they require very little maintenance and can perform at the capacity required for this work."
The long torches and sled accessory pay particular dividends at EcoVet.
"We use a 4-ft.-long torch wand on the sides of the trailer, meaning that no longer do we need ladders or forklifts to lift a worker," Hagood explains. "Also, we were one of the first U.S. companies to employ the sled accessory, which is placed on the end of the plasma-cutting gun and provides a guide that lets a user just walk along the side of a trailer and cut without the torch tip hitting the aluminum panel. This accessory provides a good, straight cut and helps us speed the cutting process."
Equipment Employed to Its Fullest
Hypertherm and its distributor in Arkansas, Welsco, have spent many days at EcoVet, according to Hagood, keeping the company apprised of new plasma-cutting technologies and new products such as the sled accessory. They also provide EcoVet employees with tips and tricks to get the most out of the equipment.
In turn, the equipment and processes used by EcoVet are employed to their fullest by the company's veteran-laden workforce.
"Every day we build something different," says Hagood. "I don't think we really understand how difficult it is to serve in the military and then come home to an 8-to-5 job. Here, veterans have flexibility, and every day they are creating something new and have a lot of pride in their work. They all have a unique talent, learn quickly and work with very little coaching." MF
See also: Hypertherm, Inc.
Technologies: Cutting