3+3: Best Practices and Abrasive Options for Grinding/Surface Finishing
July 1, 2018
While it may seem faster and more convenient to use the handiest tool for a grinding and finishing application, here is a word of advice: don't. Instead, take time to follow the best practices and abrasive options presented here. Remember, the wrong tool can damage the workpiece, lead to costly rework and reduce product life.
Three Best Practices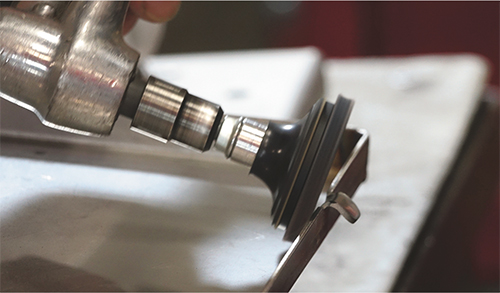 Using the wrong product or grit size for grinding/finishing application are common mistakes. Selecting the best product for the material type and thickness, and the desired surface finish, can positively impact productivity, costs and the end results.
Here are three ways to save time and money, while achieving ideal grinding/finishing results:
1) Set sights on desired outcomes when evaluating products for a grinding and finishing application. Consider closely the workpiece material type and thickness, operating conditions and surface-finish requirements.
2) Consider material thickness and finish requirements when selecting grit size. For example, coarse, aggressive grits when used on thinner materials can damage the workpiece or remove too much material.
3) Ensure proper use of the abrasive product by following the recommended approach angle to the workpiece. An improper angle can affect performance and product wear, resulting in downtime for product changeover or rework. Training helps operators become familiar with the best practices for each product.
After considering these common best practices, get to know some of the lesser-known abrasive products that can provide benefits given the right application.
Three Abrasive Options
The following provide good alternatives for grinding and finishing, especially on thinner materials:
1) Circular flared-end brushes used on a die grinder can replace manual finishing work in some applications, especially on aluminum. Due to their round shapes, these products provide the same point of contact to the workpiece no matter the angle of approach, allowing operators to manipulate their access angle while still maintaining the same point of contact to the workpiece for a consistent finish in significantly less time than manual finishing. When finishing parts by hand, operators may avoid changing hand positions or tool orientations to work around obstacles for fear of damaging the part.
A smoky haze often lingers on an aluminum part after gas-metal-arc welding. Using a circular flared-end brush in a fine stainless-steel filament, such as 0.006- or 0.008-in. wire, will remove the haze and leave a nice finish. Thinner-gauge wire brushes, well suited for cleaning and finishing thinner material, also are available in larger sizes such as 0.020-in. wire.