Achieving Premium Results with Plasma Cutting
July 1, 2018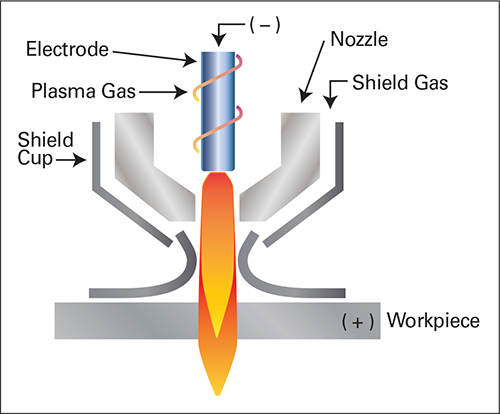 Fig. 1—Basic plasma-torch design.
Automated plasma-cutting systems can produce accurately cut parts with a variety of gas combinations, but what's under the surface will affect your final product quality. Different gas combinations will react with the cut metal edge and affect weldability, making the selection of the appropriate gas combination a key component in ensuring good quality.
The gases selected for automated plasma cutting depend on the type of torch used by the plasma system. Some torches offer only a few choices and others a multitude of possibilities. This article takes the mystery out of deciding the best choice for your cutting needs.
Basic Torch Design 101
Plasma torches are either a single-gas-input or dual-gas-input design. Typically, single-gas torches operate at currents to 125 A. The single-gas input splits inside of the torch into plasma and shield flows. When the operation exceeds 125 A, the increased heat of the arc requires that the torch be liquid-cooled. Virtually all liquid-cooled torches feature dual gas-input designs. Dual-gas torches have separate pathways for the plasma and shield gases, allowing the torch leads to deliver the gases to the torch head through two separate hoses. The plasma and shield gases can, therefore, be different, as can delivery pressures and flows.
Systems with Single-Gas Torches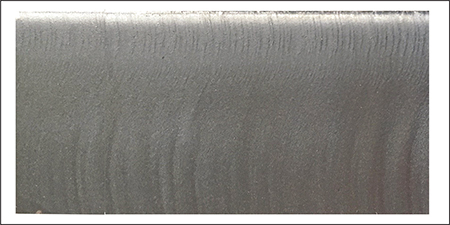 Fig. 2—Steel cut with O2 plasma/air shield with iron-oxide film.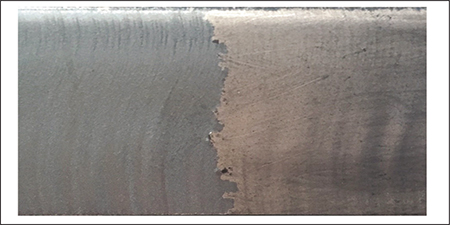 Fig. 3—Steel cut using O2 plasma/air shield with iron-oxide film removed from right side.
Low-cost automated plasma-cutting systems, configured with single-gas torches designed to cut all sheetmetal types using compressed shop air, may not deliver the quality required by many customers. The reason why: The cut face of steel plate, cut with air, includes large amounts of dissolved nitrides, with the air being roughly 78 percent nitrogen and 21 percent oxygen. When a gas-metal-arc weld (GMAW) is applied directly to the cut surface, nitrides often are trapped inside of the weld as it solidifies. Grinding the cut edge surface before welding will eliminate the nitriding issue. When cutting aluminum with air plasma, the cut face becomes heavily oxidized and grainy in appearance, and will require grinding before welding on the cut face. The cut surface of stainless steel also will be heavily oxidized. The surface, dark gray and crusty from the formation of nickel oxides, requires grinding before welding.