Since bringing together its tool and die and stamping operations 20 years ago (tool and die had been outsourced), Greenheck has relied heavily on Link and TCR to address its increasing automation needs. Today, Greenheck's four stamping presses are equipped with Link press and automation controllers. This provides the OEM with advanced diagnostics; press controls for safety; features such as multiple die-protection channels and programmable limit-switch channels to enhance productivity; and the ability to automate and store production setups and actions formerly performed manually, such as adjusting passline height and shut height, thus enabling consistency, quality and faster cycle times.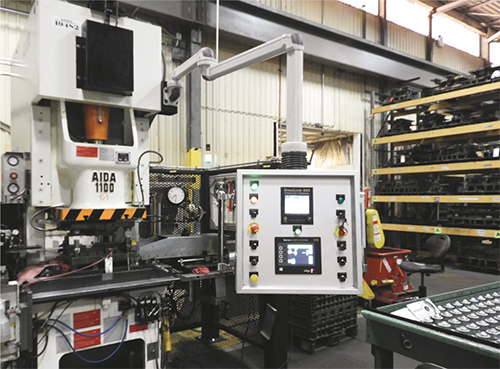 Link Systems' ability to provide flexible custom layout solutions allowed Greenheck Fan and TCR Integrated Stamping Systems to create a master operator station (MOS) combining press and feed-interface screens, plus the push buttons to run the system. This MOS, mounted to a movable arm, allows the operator to position controls for greater ease of use.
"We're always looking for ways to improve and reduce setup time," says D'Acquisto. "Anything we can do to eliminate steps helps. On larger setups, we can reduce setup time by 15 min.
"With Link's die-protection channels constantly monitoring our equipment," he continues, "our operators can perform other tasks, such as making sure that the next die is ready for the next setup. With dies producing multiple parts, what the programmable die protection provides in terms of monitoring parts and scrap evacuations is very important."
Game-Changing Diagnostics
A game-changer for Greenheck has been diagnostics. According to Wenzel, the need for press and process control as well as touchscreen terminals was great with the company's older press and its newer Aida small gap-frame press. Another press—an Aida 200T press custom-built for Greenheck—came with the OmniLink press and process controller already installed. A newer Aida 330T straightside press already had good diagnostics, so it did not require a total retrofit. "With this one, Greenheck wanted the power of the Link process control," says Wenzel, "but we didn't have to retrofit and upgrade the press controls."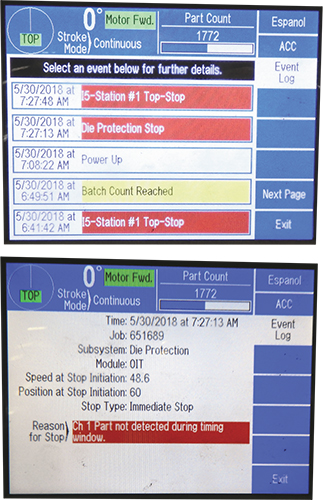 Link System's 5100 control, available with advanced diagnostics, keeps a running log (several days) of reasons for press stoppages. The information allows for quick identification of faults and machine issues, even by less experienced technicians.
Greenheck Recognized for Attracting and Retaining Young Talent
Greenheck Fan's efforts to develop young talent through its ongoing college co-op and internship program has helped gain the Schofield, WI, maker of HVAC equipment a reputation as a stellar workplace for young professionals. Greenheck's program provides students at four-year colleges or universities with hands-on educational opportunities as they work with experienced product-development, test, application, manufacturing and controls/electrical engineers.
Greenheck's commitment to employee development has earned it recognition as one of Wisconsin's Top 10 Best Places to Work for Young Professionals. At an awards presentation in May, it received its fourth consecutive Bubbler Award, presented by NEWaukee, a Milwaukee-based organization that focuses on attracting and retaining talent in the state of Wisconsin, and the Wisconsin Economic Development Corp. Award criteria, evaluated by a statewide panel, include competitive compensation and benefit packages, opportunities for advancement, professional development programs, community engagement, and access to leadership.
This [award] is a testament to our ongoing efforts and investments to attract, develop and retain employees by creating a workplace environment that supports and encourages employee personal and professional growth through leadership and career development, training opportunities, special events, and wellness programs," says Kathy Drengler, Greenheck vice president of human resources.
Wenzel encourages fabricators to ask the following when considering a total retrofit or system upgrade:
Is the controller safety-compliant to OSHA standards?

Is it smart? That is, are the diagnostics so primitive that too much time is spent troubleshooting?

Are parts available, even for equipment no longer made? Wenzel says Link makes its own parts and, therefore, makes available parts for all its machines, past and present.
"For fabricators, it comes down to evaluating how much benefit will be derived," says James Barrett, president of Link. "Yes, replacing controls requires quite an effort, with the press being down while performing the work. But over the course of time, this pays for itself in terms of greater efficiencies and reduced downtime."
Industry 4.0 and Beyond
Thomas Franke, manufacturing engineer at Greenheck, says that the company's success results largely from its commitment to staying at the forefront of new technologies with the help of suppliers such as Link and TCR. "They've kept us informed of technology upgrades over the years to enable us to make informed decisions concerning equipment and interconnectivity."
This interconnectivity, seen in Greenheck's use of the LinkNet communications system for its presses, enables the presses, via automation controllers and tonnage monitors, to report information and status back to the PCs for display, storage and printing. In addition, LinkNet incorporates a preventive-maintenance module for scheduling and generating work-order reports for routine press and die maintenance.
"We're able to accomplish easier integration between devices in production cells," says Wenzel. "One impact of IoT (Internet of Things) is that more and more of the equipment we install have their own IP addresses, enabling us to accomplish integration between devices in production cells using data lines, instead of having to run a hundred lines back and forth."
As for what lies ahead for controls technology, Greenheck's Franke and D'Acquisto look forward to incorporating advanced controls systems with robotic forming cells as well as servo presses that feature complex motions.
"Greenheck prides itself on using the latest technology when it comes to sheetmetal fabrication, whether it's stamping presses, press brakes or lasers," says Franke.
"Advanced controls technologies," adds D'Acquisto, "will enable us to continue our push to remain on the leading edge." MF
See also: Link Systems, TCR-Integrated Stamping Systems, Greenheck Fan Corporation
Technologies: Sensing/Electronics/IOT