Articles
PTM Corp.'s 'New Baby'
Wednesday, May 22, 2019
The excitement is infectious. When you spend time talking with Donna Russell-Kuhr, CEO of prototype and production metal former PTM Corp., Fair Haven, MI, about her new "baby," you can't help but become caught up in her enthusiasm. What's got Russell-Kuhr so pumped?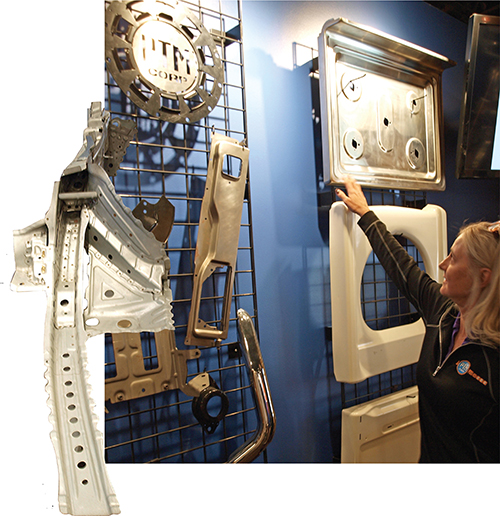 "We've done nearly every part on a vehicle," says Donna Russell-Kuhr, CEO of PTM Corp. "And we do work in the white goods industry as well—stove tops and washing-machine parts for example. Most recently, we've become experts at floor pans, rails (left) and other complex assemblies."
"I never thought we'd have a 1000-ton mechanical stamping press at PTM," she says, thinking back to the 1970s when the company launched under her father's direction, and even to when she took the reins of the family business a few years ago. But what Russell-Kuhr knows now, and what the rest of the metal forming community will know when PTM holds an open house this month, is that the company indeed owns and operates a 1000-ton mechanical press—and Russell-Kuhr couldn't be prouder of her 'new baby.'
The move to 1000-ton press capacity represents quite a jump from the firm's previous mechanical-press capacity of 600 tons, and promises to open all sorts of new doors for the company, explains Russell-Kuhr, in terms of part size, workpiece material type and thickness, production quantities, and margins. "That's because our newly expanded capacity to fulfill high-volume production runs of larger parts also will create opportunities to perform more value-added work, all part of our long-term business plan," she says.
Engineering-Based Relationships, Solution Providers
Throughout most of its nearly 50-yr. history, PTM primarily specialized in stamping and slide forming of smaller parts—clips and clamps, if you will—for the automotive industry. "We made our mark," Russell-Kuhr says, "by developing and nourishing an engineering relationship with our customers and being solution providers. We provide, for example, design support and prototype development, all the way through production stamping and process development for welding and assembly."
For a long time, production and prototype stamping at PTM occurred on mechanical presses 300 tons and less, while higher-tonnage hydraulic presses performed much of the prototype stamping. That mix began to change in 2010 when, coming out of the economic downturn, PTM brought on a 600-ton mechanical press, and shortly thereafter a 550-ton press.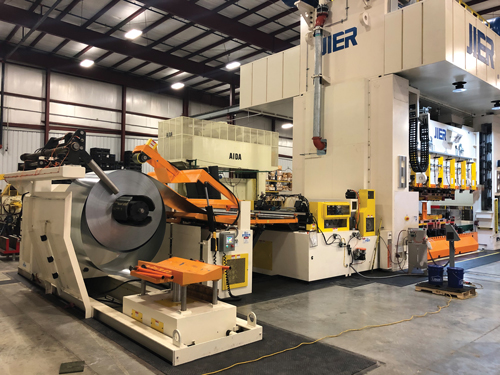 The Jier 1000-ton four-point eccentric-geared beast features two moving bolsters, a 72-in. by 30,000-lb. Dallas feed line, Allen Bradley (PanelView) controls, a Helm tonnage monitor, and 12 automatic traveling die clamps with presence sensors (from Pascal Engineering) to foster quick die changeovers. Note also the transfer-system mounts on the press columns, should PTM decide to add a transfer system at some point.
Nearly concurrent to this tonnage expansion came the addition, through acquisition, of an experienced team of engineers—the creation of what PTM now calls its Advanced Engineering Center. All of the sudden, PTM's work orders began to change, as the firm now produces (in prototype and production) larger Class A stampings, structural parts such as rails, and even difficult weldments of various combinations of metal alloys, including advanced steels and aluminum alloys.
The next logical step in its business plan: continue to grow press capacity, fulfilled in January of 2019 with the addition of its 1000-ton mechanical press from Jier. And, the company plans to add yet another high-tonnage press, "perhaps a 1500- or 2000-ton transfer press," shares Russell-Kuhr, "in the not-too-distant future."
Until then, the PTM team will continue its push into larger work—"work we've gotten really good at," Russell-Kuhr says, pointing particularly to rails, developed and produced for several U.S. and transplant automotive OEMs and Tier One customers. The key, she explains, to gaining expertise with rails, which often require stamping and welding a tricky variety of low-carbon and high-strength steels, has been collaborating with and learning from PTM's customers. An example: weld sequencing, a critical process that minimizes distortion and helps meet tight dimensional tolerances.
"Normally you can get away with less-stringent tolerances in protoytypes," Russell-Kuhr says, "but we're striving to develop production-intent prototypes-of rails and other complex parts and assemblies. We want to make the testing and validation process easier down the road for the customer and for the eventual supplier of the production stampings and assemblies."
Two Different Worlds
Used to running a business based, more or less, on a 50-50 mix of prototype and production work on relatively low-tonnage presses, Russell-Kuhr now finds herself executing a business model more focused on production stamping of bigger parts, on higher tonnage presses and offering more value added work.
"The new Jier press," she shares, "is 70-percent booked with work—some takeover jobs and some new tooling in development—by the end of 2019. We're still running one fill shift per day along with a small second shift, but by year-end, our second shift will be fully staffed."
We took a walk with Russell-Kuhr through the PTM production plant, a 120,000-sq.-ft. building that sits on the company's sprawling 70-acre campus that's home to six buildings and a total of 300,000 sq. ft. under roof. PTM added 30,000 sq. ft. to its main production plant in 2017 to make room for the new Jier press, and leave enough room to add one more large-bed press—when the company is ready for it. The plant employs 100 of the nearly 300 PTM employees overall, a 5-percent increase year over year, and the growth continues. The plant's 17 mechanical presses, from 45 to 1000 tons, along with a bevy of four-slide machines, produce 2.5 million production pieces per week.
Front and Center
…of the new addition to the production plant sits the Jier S4-1000-6100-2450 mechanical press, a four-point eccentric-geared beast with two moving bolsters, Allen Bradley (PanelView) controls, a Helm tonnage monitor, and 12 automatic traveling die clamps with presence sensors (from Pascal Engineering) to foster quick die changeovers. It all sits on Air Loc vibration/leveling isolation pads.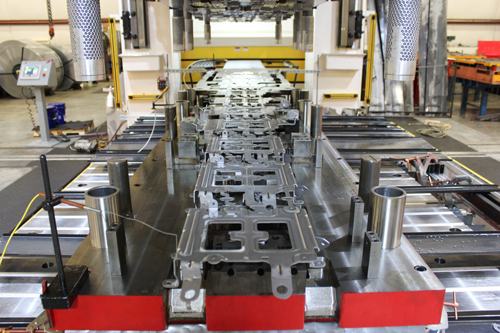 Among the parts PTM has stamped on its new 1000-ton press is this bracket the firm supplied to Hitachi, for use in applications related to the electrification of automobiles.
"Bed size (6100 by 2450 mm) was key for us in specifying the press," Russell-Kuhr notes, rather than only focusing on tonnage, since she does not consider PTM a heavy stamper. "In addition, Jier kept as much of the accompanying apparatus—control cabinets and the like—in the mezzanine aside the press, to optimize use of floor space, which is at a premium in the plant, even with the recent addition."
Other key press characteristics: 0.167-mm/m deflection ratio; an energy rating of 29,400 kg-m (971 in.-tons) at 21 strokes/min.; a 600-mm stroke length; and a continuous run rate to 35 strokes/min. PanelView features include display of the part library and fault messages, and press-status information such as lube rate, tonnage, shut height, counterbalance pressure, press angles, stroke rate and I/O status.
In addition, while for now the plan is to load the press with progressive-die work (coil material feeds via a 72-in. by 30,000-lb. Dallas feed line), a transfer system could be coming soon. Jier, based in China and with U.S. offices in Plymouth, MI, outfitted the press to prepare for the transfer add-on.
Servanthood
Since adding its 550-, 600- and 1000-ton presses, PTM now has been able to stamp nearly every part of a vehicle, says Russell-Kuhr, noting that some 14 percent of the company's business is for GM, and the business plan requires that no one customer account for any more than 20 percent of its business. In addition to automotive work, we spied in the company's customer showroom stamped prototypes of stove tops, washing-machine parts, heavy-truck oil pans and seat-actuator parts, to name a few.
"Yes our business model continues to evolve," Russell-Kuhr admits, noting the shift to larger parts, more value added work and more production stamping. "But what won't change is our commitment to being a solutions provider for our customers. Collaboration is the rallying cry, with a management style and commitment throughout every part of the company to servanthood.
"Serve the customers first," she preaches, "and stay humble with a willingness to form alliances and learn from each other. We don't know it all…but we want to continue to learn and grow." MF

See also: PTM Corporation
---
Reader Comments
Posted by: Marina on 7/13/2019 3:11:47 AM
Hi, I'm proud to say that our invention and know-how allowed to design the most powerful mechanical (not hydraulic) press with amazing technical and economical characteristics. These days we're applying it for patenting and for start-up fundrasing. If you're interested in our start-up please contact me.
---
Visit Our Sponsors