Mobile Fume Extraction
May 22, 2019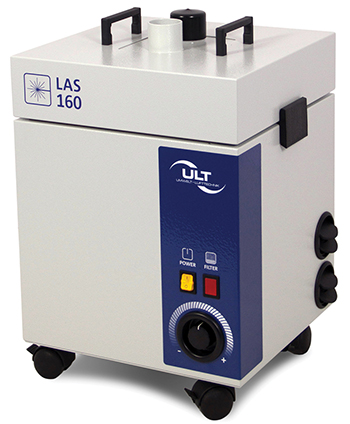 ULT AG introduces the ULT 160.1 portable fume extraction unit—part of a new product series—for small and medium air-pollutant quantities. Systems in the new series help to eliminate airborne pollutants released during joining, separation or surface-processing technologies. In addition to a new appearance and improved handling capabilities, the new series reportedly provides high filtration rates and low-noise operation.
Special filter combinations within the ULT 160.1 increase separation efficiency and filter lives, resulting in significant cost savings for users, according to company officials, and the compact, mobile system design enables flexibility when service constantly relocated manual workstations.
The ULT 160.1 can be installed with one extraction arm or two hoses, and can connect to external systems via a D-Sub interface for automated operations, such as those including laser marking systems, soldering machines or dispensing devices.
See also: ULT AG
Technologies: Welding and Joining