Two Different Worlds
Used to running a business based, more or less, on a 50-50 mix of prototype and production work on relatively low-tonnage presses, Russell-Kuhr now finds herself executing a business model more focused on production stamping of bigger parts, on higher tonnage presses and offering more value added work.
"The new Jier press," she shares, "is 70-percent booked with work—some takeover jobs and some new tooling in development—by the end of 2019. We're still running one fill shift per day along with a small second shift, but by year-end, our second shift will be fully staffed."
We took a walk with Russell-Kuhr through the PTM production plant, a 120,000-sq.-ft. building that sits on the company's sprawling 70-acre campus that's home to six buildings and a total of 300,000 sq. ft. under roof. PTM added 30,000 sq. ft. to its main production plant in 2017 to make room for the new Jier press, and leave enough room to add one more large-bed press—when the company is ready for it. The plant employs 100 of the nearly 300 PTM employees overall, a 5-percent increase year over year, and the growth continues. The plant's 17 mechanical presses, from 45 to 1000 tons, along with a bevy of four-slide machines, produce 2.5 million production pieces per week.
Front and Center
…of the new addition to the production plant sits the Jier S4-1000-6100-2450 mechanical press, a four-point eccentric-geared beast with two moving bolsters, Allen Bradley (PanelView) controls, a Helm tonnage monitor, and 12 automatic traveling die clamps with presence sensors (from Pascal Engineering) to foster quick die changeovers. It all sits on Air Loc vibration/leveling isolation pads.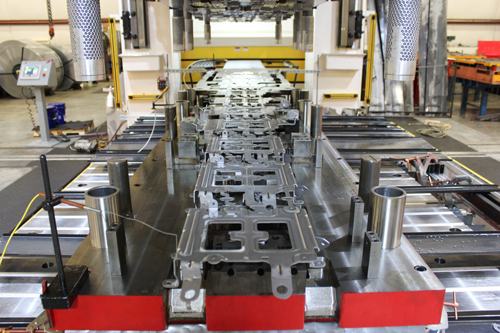 Among the parts PTM has stamped on its new 1000-ton press is this bracket the firm supplied to Hitachi, for use in applications related to the electrification of automobiles.
"Bed size (6100 by 2450 mm) was key for us in specifying the press," Russell-Kuhr notes, rather than only focusing on tonnage, since she does not consider PTM a heavy stamper. "In addition, Jier kept as much of the accompanying apparatus—control cabinets and the like—in the mezzanine aside the press, to optimize use of floor space, which is at a premium in the plant, even with the recent addition."
Other key press characteristics: 0.167-mm/m deflection ratio; an energy rating of 29,400 kg-m (971 in.-tons) at 21 strokes/min.; a 600-mm stroke length; and a continuous run rate to 35 strokes/min. PanelView features include display of the part library and fault messages, and press-status information such as lube rate, tonnage, shut height, counterbalance pressure, press angles, stroke rate and I/O status.
In addition, while for now the plan is to load the press with progressive-die work (coil material feeds via a 72-in. by 30,000-lb. Dallas feed line), a transfer system could be coming soon. Jier, based in China and with U.S. offices in Plymouth, MI, outfitted the press to prepare for the transfer add-on.
Servanthood
Since adding its 550-, 600- and 1000-ton presses, PTM now has been able to stamp nearly every part of a vehicle, says Russell-Kuhr, noting that some 14 percent of the company's business is for GM, and the business plan requires that no one customer account for any more than 20 percent of its business. In addition to automotive work, we spied in the company's customer showroom stamped prototypes of stove tops, washing-machine parts, heavy-truck oil pans and seat-actuator parts, to name a few.
"Yes our business model continues to evolve," Russell-Kuhr admits, noting the shift to larger parts, more value added work and more production stamping. "But what won't change is our commitment to being a solutions provider for our customers. Collaboration is the rallying cry, with a management style and commitment throughout every part of the company to servanthood.
"Serve the customers first," she preaches, "and stay humble with a willingness to form alliances and learn from each other. We don't know it all…but we want to continue to learn and grow." MF

Industry-Related Terms:
Center
,
Die
,
Form
,
Forming
,
Model
,
Prototype
,
Run
,
Shut Height
,
Slide Forming
,
Stroke
,
Thickness
,
Transfer
,
Alloys
View Glossary of Metalforming Terms
See also: PTM Corporation
Technologies: Stamping Presses