12-kW Fiber Laser with Newly Designed Cutting Head
May 22, 2019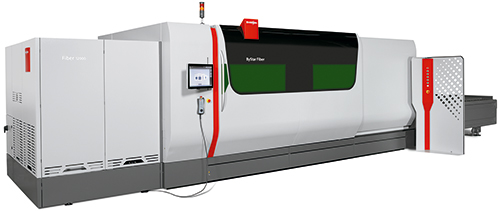 Bystonic's new ByStar Fiber 12kW, a fiber laser cutting machine boasting 12 kW of power, offers higher speeds and an expanded spectrum of applications, according to company officials. A newly designed cutting head enables the BeamShaper option that reportedly ensures consistent cutting quality on various materials in thicknesses to 1.125 in. With the 12-kW laser, the ByStar Fiber's cutting speeds increase as much as 20 percent on average—when laser cutting with nitrogen—as compared to the previously available 10-kW laser source.
The cutting head, the core element for a stable cutting process and consistently high part quality, explain Bystronic officials, applies all the more with increasing laser power, which must be delivered to the cutting material precisely and reliably. To enable this, a slimmer design for the new cutting head decreases the possibility of contact with cut features during the cutting process. Bystronic also has reduced the number of components and accommodated important technical functions in the interior of the cutting head. The new design reportedly also decreases maintenance and operating costs, as integrated technology is better protected from contamination occurring from cutting dust, for example. And, optimal cooling in the cutting head ensures consistent cutting performance, particularly for long-lasting cutting operations with high laser power.
The BeamShaper function reportedly enables exceptional cutting quality for steel to a sheet thickness of 1.125 in., and this option can be selected with the purchase of a new ByStar Fiber or retrofitted at a later date.

See also: Bystronic Inc.
Technologies: Cutting