Tooling Article
The Fruits of Forming Threads in a Turret Press
Wednesday, May 1, 2013
Sales-producing point-of-purchase displays require a keen sense of design and manufacturing know-how. For Midland Metal Products, Chicago, IL, designing a new display for fabricating recently opened up a faster, more cost-effective to attach components to the display racks.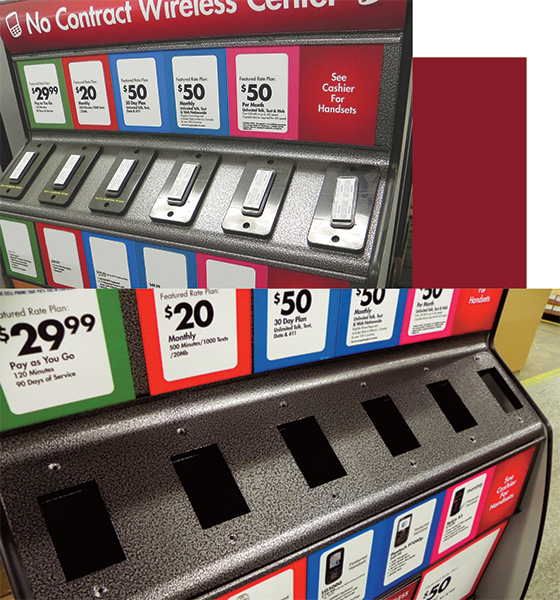 Chicago's Midland Metal Products fabricates these in-store cell-phone displays for a major discount retailer. Panels are punched in CNC turret presses from 4- by 8-ft. 20-gauge cold-rolled steel.

By using a new Hybrid Threadform forming tool (from Mate Precision Tooling) for a display, Midland realized a 150-percent cost savings compared to previous fastening methods that required spot welding and use of self-clinching nuts. But the cost savings tell only half of the improvement story. Time-to-market facilitated by Mate's fast threadform tooling process is equally important to Midland Metal Products, where selling seasons come and go quickly and the race to be first often determines overall success.

Midland Metal Products is a fourth-generation family-owned designer and manufacturer of point-of-purchase displays. In addition to its turret punch presses, the firm also operates wire-forming machines, a six-axis gas-metal-arc-welding robot and an automated high-speed laser cell that process 60- by 120-in. sheets as thick as 7⁄8 in. Its pair of turret punch presses (Finn-Power/ Prima Power models) process 50- by 100-in. sheet to 3⁄8 in. thick, boasting the ability to carry 43 punching tools. Midland's tooling library consists of more than 3000 tools.

In a 100,000-sq.-ft. plant, Midland manufactures award-winning displays for a wide range of global-branded products, including clothing, toys, building supplies and snack foods. When challenged to fabricate an in-store display to introduce a new line of cell phones for a major discount retailer, Midland looked to develop a new method for fastening components to the shelves. The new process proved so effective that the company plans to use it wherever possible on future display designs.

Blasting its Welding Bottleneck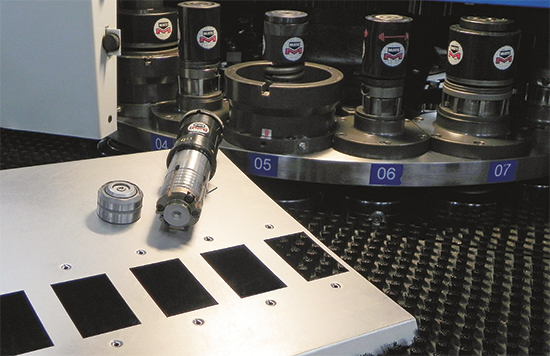 To fulfill the firm's initial order for 10,000 displays, Midland Metal's new threadform tool completed more than 240,000 cycles, each cycle requiring 24 thread helixes.

"When planning prototype samples for the recent order of cell-phone displays, we analyzed the fabricating steps on the turret press," reports operations manager B. J. McDonald. The panels are punched from 4- by 8-ft 20-gauge cold-rolled steel. To minimize setups, secondary operations and part moves, Midland consolidated as many of the punching operations upfront on the turret press. Those operations include sizing the panels and punching rounded corners, slots, notches and other features.

"The operations are done very quickly on our turret presses using multi-tools in the turrets," adds McDonald. "Following punching, we typically used to weld or press-fit threaded nuts into the panels before powder-coating them. These process steps worked well enough on shorter display runs, but welding operations created a bottleneck on larger orders of 10,000 displays or more."

To blast its welding bottleneck, Midland Metal Products sought a to bypass the welding operation altogether and look for a solution using its turret-punching operations. To the front stepped Mate sales engineer Chris Scherer, who recommended developing a prototype and finished panels using Mate's threadform tool.

While threadforming on a turret press has been around for years, Midland's new tool takes a different approach to forming compared to conventional threadform tools. Mate's design thins the sheetmetal in the center of the form and, in a single press operation, creates a threadform helix. A customized insert in the tool precisely matches the thread helix of the screw thread used for fastening. To fit Midland's dimensional requirements for the display, a Mate applications specialist used CAD software to electronically model the geometry of the insert. He created a 3D solid model for the required 10-24 and ¼-20 thread sizes; the tool holder is a Mate Ultraform thick turret B-station. Testing the tool on prototype display models, McDonald found it to be "a very successful replacement for the original welding method."

Cost Savings Compounded

Since the firm powder-coat paints all of its displays, the previous design using welded fasteners required masking plugs to keep threads free of paint. In some cases, operators had to manually clean the painted nuts so screws would fit freely into them. In contrast, the threaded helix made with the new threadform tool requires no cleaning after painting. Screws fit and turn easily using simple hand tools.

"The Mate Hybrid Threadform tool provides just enough thread depth and engagement to tightly secure shelf components," reports McDonald. "When we submitted the prototype models to our customer, its engineers liked what they saw based on rigidity, appearance and quality. But most importantly, they were really pleased with the time and cost savings realized using the new threadform process."

McDonald quantified the cost savings using the new threadform tool several s. He calculated a direct-savings benefit of one cent for each of 24 threadforms per display, compared to 15 cents each for the same number of welded nuts per display. The direct savings from eliminating welding was significant due to the elimination of secondary operations. Also eliminated was the need to move each display panel to the welding station, as well as setup and welding time for each nut.

Indirect savings also prove significant, beginning with the elimination of labor input—once the threadform tool is loaded into the press turret. Also, the tool operates at 200 hits/min., much like a standard piercing tool, so actual production time for threadforming is much lower than for welding. Energy savings has proved to be substantial as well, and there's no need to inspect the painted holes or clean the threads.

"As Good As New," After 240,000 Cycles

McDonald calculates that to fulfill the firm's initial order for 10,000 displays, its new threadform tool completed more than 240,000 cycles, each cycle requiring 24 thread helixes. What amazed him was that "the Mate tool was still operating as good as new and ready for its next assignment."

Anticipating future similar projects benefiting from the threadforming process, McDonald ordered six additional Mate Hybrid Threadform tools to handle 14-, 16-, 18- and 20-gauge material.

"We want to introduce the new threadform feature with customer prototypes even when they don't ask for it," says McDonald. "As soon as they see it they're sold on its many benefits. It helps sell the entire project." MF

Article provided by Mate Precision Tooling: 763/421-0230; www.mate.com.
See also: Mate Precision Tooling
Related Enterprise Zones: Fabrication, Tool & Die
---
Reader Comments
Posted by: Ralph on 3/28/2014 8:00:51 PM
Nice, no mention that this tool was developed at Nu-.
---
Visit Our Sponsors