Choosing the Wheel Well
The key to optimizing performance of an abrasive-grinding and cutting operation is the selection of the best-suited wheel to the particular application. When selecting the best wheel for the job, consider several factors including external budgetary rules and the available power sources—low voltage, low air pressure for example—and whether cost reduction and process optimization throughput are the main goals. Many abrasives manufacturers provide grinding solutions geared to meeting specific applications, ranging from rapid stock removal to precision finishing.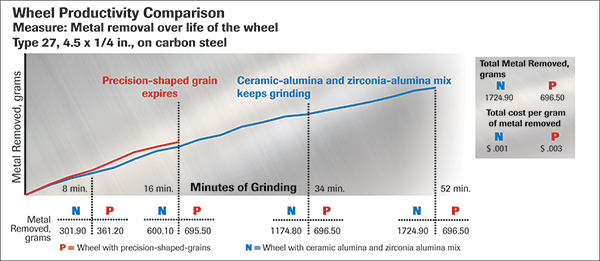 There are several different methods of evaluating the performance of abrasive wheels. Some wheels are hard-acting—they may last a long time but not remove much material. Other wheels are soft-acting—they cut quickly but do not last very long.
To attain the true value of a wheel, combine its cutting action and wheel life. A high-performance wheel provides a very good cut rate and wheel life for the highest total metal removed over the life of the wheel. Measuring and tracking these factors can reveal opportunities to reduce the total cost of an operation, solving production bottlenecks and reducing total fabrication costs.
Wheel Performance, All-Around
To illustrate how to measure and compare total wheel performance, consider the accompanying graph comparing the productivity of a wheel with precision-shaped grains and a wheel with a proprietary ceramic-alumina and zirconia-alumina mix. When compared with using a standard grinding operation, the wheel containing precision-shaped grains cuts very quickly during the initial few minutes of grinding. However, since the grains cannot microfracture under the grinding pressure, the wheel will grind more slowly after several minutes. The grains prematurely expel and wear very quickly so that the final life of the wheel tends to be very short.
In contrast, the wheel with the proprietary mix of grains maintains the same cut rate throughout its life, which is nearly three times longer than the wheel with the precision-shaped grains. This is due to the microfracturing characteristics of the two grains. Over the life of the wheel, it removes more than 2.5 times the material than the wheel containing the precision-shaped grains.
By measuring the metal-removal rate along with the total life of the wheel, the total abrasive cost of an operation or production process can be quantitatively evaluated. It also is important to consider other benefits that can be derived from using a fast-cutting longer-lasting wheel:
• Reduced labor cost;
• Shorter process times;
• Reduced worker fatigue;
• Reduced downtime, thanks to fewer wheel changes; and
• Longer machine life.
By evaluating and tracking abrasive performance, combined with taking the time to select the best abrasive for a particular application, job shops and production operations can identify opportunities to significantly decrease grinding costs and increase productivity. MF
See also: Norton Abrasives
Technologies: Finishing