3) Reduced Raw-Material Cost
Formability issues often dictate that the raw-material's specification range becomes more limited and, as a result, the material price rises. The programmable slide of a servo press often allows metalformers to expand the specification range of their raw material, achieving significant cost savings. In one case, a North American automotive OEM installed a four-servo-press line to produce auto-body and outer-skin components and enjoyed a drop in raw-material prices as a result (Fig. 5).
4) Lower Maintenance Costs
The ability to control slide velocity during the working portion of the press stroke enables stampers to reduce the shock and vibration associated with metalforming operations. Lowering punch velocity during forming also significantly reduces heat generation, with a corresponding improvement in die life.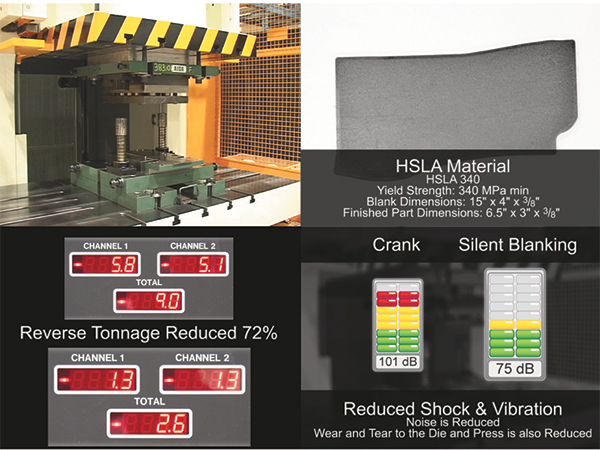 Fig. 6—Moving this blanking die to a servo-driven press allowed the use of a silent blanking-motion profile that reduced forward tonnage by eight percent, reverse load by 72 percent and noise level from more than 100 dB to just 75 dB. As a result, die life more than doubled and negative effects of reverse tonnage were nearly eliminated.

Consider the blanking die shown in Fig. 6. When run on a conventional mechanical press, the die requires 114 tons in the forward direction and results in nearly 14 tons of reverse loading; noise level exceeded 101 dB. Moving this die to a servo-driven press allowed the use of a silent blanking-motion profile that reduced forward tonnage by eight percent, reverse load by 72 percent and noise level to 75 dB. As a result, die life more than doubled and negative effects of reverse tonnage were nearly eliminated.

In addition, taking a the flywheel and main motor drive as well as the clutch and brake mechanism reduces the cost of press maintenance, since we're eliminating wear components such as O-rings, seals, discs and linings.

5) Reduced or Eliminated Secondary Operations

The ability to program slide motion and incorporate secondary operations into the initial press operation has provided many servo-press users with significant savings. In-die assembly, tapping and welding become much more practical in a servo-driven press because the time required for these operations can be programmed into every press cycle.

Stampers also can eliminate in-process annealing operations with a servo press, due to the precise velocity programs used to form high-strength steels or exotic materials such as magnesium and titanium alloys, Inconel alloys and even some grades of high-strength aluminum. Often, reducing the forming velocity reduces the heating of the material being worked, which limits work hardening and improves formability. However, in other cases the addition of heating elements in the die and a programmed dwell in the press cycle enables the warming of the material being formed, which can significantly improve formability.

6) Reduced Energy Consumption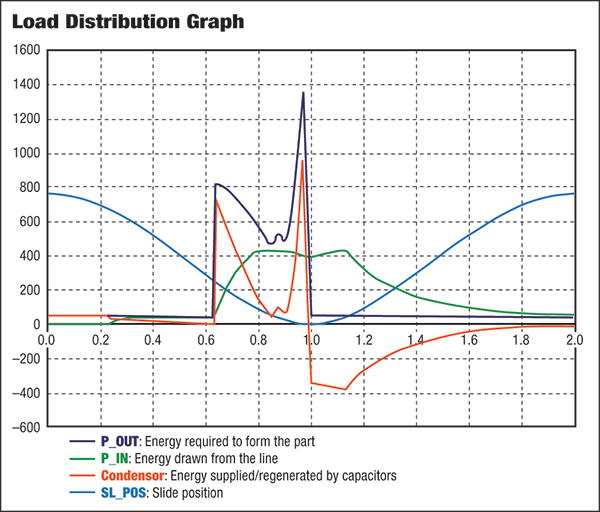 Fig. 7—By applying large capacitance to a servo-press control system, stampers can significantly reduce power consumption —by as much as 10 to 50 percent, or more. In this example, peak load on the factory main line is reduced by 67 percent.

By applying large capacitance to a servo-press control system, stampers can significantly reduce power consumption—by as much as 10 to 50 percent, or more.

In the accompanying servo-press load-distribution graph (Fig. 7), the heavy blue line represents press slide position and the thin blue line represents the energy required to form the part. The green line shows the energy drawn from the factory's main power line; the remaining energy consumed comes from capacitors recharged during the nonworking portion of the press cycle. In this example, peak load on the factory main line is reduced by 67 percent. This compared to a standard mechanical press which continues to draw a large amount of power during the nonworking portion of the cycle, since the main motor works hard to bring the flywheel back up to speed between hits.

7) Handling the Tough Parts

Many servo-press users shift production of all of their most difficult jobs to their servo press. As a result, they often turn "losers" into "winners," enjoying a reduced reject rate and increased PPM. A side benefit: Production time becomes available on conventional presses used for easier work.

One servo-press owner recently noted that it's now soliciting jobs for its servo press that other stampers find too difficult or costly to quote.

8) Increased Flexibility Leads to New Customers and New Markets

The proliferation of high-strength steels and aluminum grades and increased use of exotic materials bodes well for stampers investing in servo presses. Stampers traditionally focused on the automotive industry can leverage the capabilities of a servo press to look at other markets. Likewise, those concentrated in the appliance market may be able to stick a toe in the automotive market, due to the flexibility of a servo press.

Back Home

We've taken our time and completed our investigation of servo-driven press technology, and have reached a conclusion. Every stamping operation is different and not every metalforming job will run better in a servo press. But, the vast majority will. The servo press has the flexibility to address nearly all problem areas found during metalforming. A testimony to this is the number of servo-press users that buy a second or third press, after gaining experience with their first machine.

We see servo-press technology as the wave of the present and the near future, and believe that those who jump on will have a leg up in the metalforming arena. We're going to make the move.

MF

Industry-Related Terms: Alloys

,

Bed

,

Blanking

,

Case

,

Form

,

Die

,

Draw

,

Run

,

Stroke

,

Tapping

,

Tolerance

,

Work Hardening

,

Forming

,

PointView Glossary of Metalforming Terms

See also: Aida-America Corp.

Technologies: Stamping Presses