Articles
PMA Shines Spotlight on Metal Stamping, Tool-and-die Advancements
Friday, December 1, 2017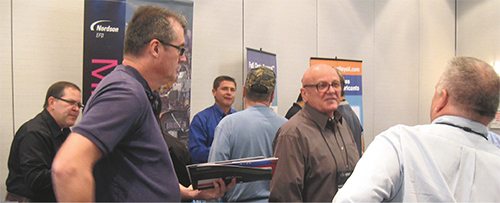 Nashville plays host to the 2018 Metal Stamping and Tool & Die Conference, Jan. 30-31. The event is presented by the Precision Metalforming Association (PMA), along with MetalForming magazine. More than 150 attendees and sponsors will be at this third-annual event, which will feature keynote presentations, educational breakout sessions and networking opportunities for die designers, engineers, tool and die makers, supervisors, technicians, and toolroom, maintenance, and operations managers. The dual-track educational program offers sessions on stamping and tool and die topics, including wrap-up roundtable discussions during which attendees will have opportunities to engage the experts.
The sessions are described below. For more information and to register, visit www.pma.org/mstd-conference.
Innovative Solutions in Die and Forming Technologies
The presentation will address efficient die technology for hot stamping. The hot-stamping market is growing annually, and so, too, is its importance within the tooling business. As a result, many strategies for hot-stamping dies have been developed, each having different effects on efficiency, wear and costs. This presentation will discuss design factors, materials and forming technologies that can help metalformers produce more efficient parts, reduce die wear and shorten die-tryout times.
Paul Thom and Mo Gharbi, Schuler Inc.
In-Die Transfer Technology

This presentation provides key elements for taking advantage of the latest in-die transfer technology. Attend and learn how to apply the technology to win more work, reduce costs and improve stamping efficiencies, and become knowledgeable about the different styles of in-die transfer technology. Examples of different in-die transfer applications will be shown and real-world case studies discussed.
Bob Gunst, President, Jacar Systems
Sensors for Die Protection
Best practices for applying electronic sensors to detect and prevent the most common causes for die crashes will be discussed. Learn how to select and install sensors for minimizing the frequency of nuisance stops, as well as wiring techniques that maximize sensor longevity and minimize setup time.
Jim Finnerty, Product Manager, Wintriss Controls Group
Advances in Materials for the Metalworking Industry
Choosing the right tool steel for your cutting or forming applications can be difficult. This presentation looks at the many factors for optimizing material decisions. These include steelmaking practices, grade characteristics, heattreatment recommendations, and the impact of manufacturing practices on the tool performance.
Patricia Miller, Senior Technical Manager, Bohler-Uddeholm
Tooling Strategies for High-Strength Aluminum Alloy Material

This presentation provides background on the need for lightweight solutions in the automotive industry, and potential material and process solutions for high-strength alloy grades using hot- and cold-forming processes. Tool-design considerations in hot stamping of high-strength materials also are presented.
Gerald Anyasodor, Sr. Engineer Technology Development, AP&T
Tooling Steel Technology for AHSS Applications
Attendees will learn about technology-based application developments in cold-work and hot-stamping; tool-steel selection criteria and best practices, such as heattreat and grain orientation, forming, trimming and piercing of advanced high-strength steel grades; and case studies showing improved die performance from using newly developed tool steels.
Tom Bell, Director, Hitachi Metals
In-Die Welding of Assemblies
This session offers a thorough presentation on the various techniques for in-die resistance spot welding for the assembly of components within progressive or transfer dies. Technologies and approaches will be shown for achieving speeds to 500-plus strokes/min. when in-die welding multiple hardware components to stamped parts, and in-die welding of multiple stamped parts to each other.
George Keremedjiev, President, Tecknow Education Services, Inc.
Latest Trends in Die Protection and In-Die Sensing
This session presents metal-stamping projects involving: RFID for die tracking; dunnage rack and material transfer cart tracking by means of HF and UHF communication technologies; use of industrially robust RFID systems for shut-height validation; new mechatronic systems for monitoring progressive out-feed process and in-die validation error-proofing, such as confirming welded nuts on stamped panels. Rapid die-change technologies using remote energizing and information transfer via wireless couplers on transfer dies and in progressive stamping dies also are presented.
David Bird, Key Account Manager, Metal Forming and Robotic Welding, Balluff, Inc.
Industry Trends in Japan and Understanding the Japanese Business Mindset
This session will help attendees understand the concept of Monozukur, and provide a better understanding of how to conduct business when establishing or expanding business with Japanese manufacturers. Industry trends and business developments in Japan will be examined. These include an overview of the tool-and-die and automotive manufacturing markets; trends in the tool-and-die and stamping markets; how new technologies, such as Industrial Internet of Things (IIoT), are being implemented in Japan; and examples of companies that have penetrated the Japanese market.
Kevin Kalb, Business Development Specialist, Jetro Chicago
Planning and Realization of Material Savings
In the sheetmetal forming industry, material loss generates one of the largest recurring costs in the manufacturing process. Reducing waste is paramount to controlling production costs and increasing profitability. Modern computer-simulation technology allows tooling professionals to more accurately predict blank size, and optimize layout within a coil. This can be accomplished early in the planning stages and further optimized using process-planning tools to define the process and validate through simulation, ensuring the maximum benefit. The presentation will walk attendees through the process from part import and initial blank estimation, to refinement of blank size with a defined processing image.
Kevin Kalb, Business Development Specialist, Jetro Chicago
Motion Simulation: Bringing the Next Design Revolution Closer
Learn how to unleash the full potential of CAD/CAM software by making designs live. With input from local tooling and mold shops in North America, this state-of-the-art technology provides a user-friendly interface for simulating motion and interaction of complete die-and-mold tooling systems, and is ideal for transfer dies and progressive dies. The trial-and-error approach on the shop floor can be avoided by testing designs in a virtual environment and, thereby, eliminating waste.
Aaron Guo, President, Longterm Technology Services Inc. (Siemens Solution Partner)
Managing Your Business in an Uncertain World
This session will assist business managers in building productive supply-chain relationships, controlling manufacturing costs, and addressing the challenges of hiring and retaining a skilled and motivated workforce. Attendees will be encouraged to participate in a discussion about how manufacturers can meet young people where they are, identify the people who influence them, and present a better picture of the opportunities available in manufacturing.
Bill Frahm, 4M Partners, LLC
Applications of Real-Time and Nondestructive Evaluation Tools to Achieve First-Time Quality Stampings

Attendees will be introduced to present and possible applications of real-time and nondestructive evaluation tools to monitor and assess the incoming coil properties, blank surface finish/lubrication, die stress, part temperature, final stamping quality such as springback and geometry tolerances for metal-stamping processes.
Hyunok Kim, EWI
A Practical Test to Separate Fact from Friction
This presentation provides cup-drawing test results for a variety of trial lubricants and different advanced high-strength-steel substrates.
W. Jeff Jeffery, CEO, Irmco
Machine Hammer Peening/ Micro Cold Forging—Novel Technology for Surface Enhancement and Polishing Automation
Learn how machine hammer peening can eliminate manual polishing in dies and molds, improve wear resistance by increasing the hardness of the surface layer, reduce friction in deep-drawing applications, and potentially eliminate secondary processes such as heattreating, coating and nitriding.
Brian Guild and Thomas Pickhardt, Accurapuls Canada, Inc. MF
See also: Schuler Incorporated, Wintriss Controls Group LLC, voestalpine High Performance Metals Corp., AP&T North America Inc., Tecknow Education Services, Inc., Balluff, Inc., IRMCO, Accurapuls Canada Inc.
Related Enterprise Zones: Presses, Tool & Die
---
Reader Comments
Posted by: summer on 9/18/2019 9:56:22 PM
Hi Sir, Good day! This is Summer from Dongguan Reliable Mold Industry Co.,Ltd------Good choice for plastic injection mold & molded parts outsource from China. Professional export mold manufacturer, provide mold design and mold construction of plastic injection for over 13 years. Please send us the 2D/3D drawing design or samples with your requests, we will quote for you with a good price for free. We mold not only parts, we mold solutions ! Try us out !!! Yours sincerely Summer Wang Reliable Mold Industry Co.,Ltd Tel: 86 -769- 21611535 Fax: 86 -769- 21611536 Email: summer.wang@reliablemold.com/ Website: www.reliablemold.com Add: Lotus Square Industrial Zone, Changan Town, Dongguan City, Guangdong ,China,523846
---
Visit Our Sponsors