The third issue involved a surface blemish identified as residue from the adhesive on the protective film applied to the part before shipment. Anchor determined that the parts sat idle for too long when production was ahead of schedule, resulting in the adhesive residue. After trialing other protective films, Anchor found one that left no residue and also saved the company on cost.

As a result of these measures, Anchor experienced an annual savings of $150,000 from scrap reductions, productivity increases and improved on-time delivery. Scrap rate decreased from 3 percent to 0.5 percent. In addition, the customer could now expect 100-percent on-time delivery and 100-percent quality parts.

Sponsored by Zierick Manufacturing Corp., Mount Kisco, NY, the Productivity Award recognizes outstanding achievement by a manufacturing company in the development and implementation of programs, processes and use of assets that lead to significant improvements in productivity.

The Winners

These companies were recognized for excellence in their categories, with each receiving a plaque, commemorative flag and cash prize.

Zierick Manufacturing Corporation Productivity Award


Anchor Manufacturing Group, Inc., Cleveland, OH

Ulbrich Award for Excellence in Product Development


Metal Flow Corporation, Holland, MI

Plex Systems Innovation and Technology Award


Hatch Stamping Company, Chelsea, MI

Clips & Clamps Industries Educational

Institution Award

Southwestern Illinois College, Granite City, IL



No winners were selected for the following:

Link Systems Process Control Award

Higgins-Caditz Design Award

Pridgeon & Clay Excellence in Quality Award

Pitcher Insurance Agency Safety Award

A.R. Hedberg Training & Education Award

Product Development Award

Metal Flow Corporation

Metal Flow Corporation, Holland, MI, received the 2017 Ulbrich Award for Excellence in Product Development for developing a deep-draw-stamping alternative to a costlier machining process when producing automobile fuel-system assemblies. The company, a contract manufacturer, specializes in deep-drawn automotive components.

Metal Flow developed a deep-draw-stamping alternative to a costlier machining process when producing stainless-steel automobile fuel-system assemblies. The company's solution delivered $0.70 of savings per injector cup, with savings per engine ranging from $3 to $5.
Metal Flow identified an opportunity in the fuel-system industry, specifically related to the trend of higher-pressure gasoline-direct-inject (GDI) applications. GDI technology reportedly exists on nearly 85 percent of light-vehicle gasoline power plants globally.
A GDI fuel rail, typically a brazed assembly consisting of multiple stainless-steel components, delivers high-pressure fuel to the injectors. Each injector requires a tight-tolerance cavity, which interfaces with the injector seal and must have a calibrated surface finish with the interface diameter-controlled statistically to within 50 microns.
Historically, the cavity or injector cup in GDI rail systems was a machined component. Metal Flow began developing a process that would allow customers to capture the cost benefits of a deep-drawn solution while delivering the features required by the GDI rail design. This proprietary deep-draw, anneal and burnish process utilizes two high-speed-stamping operations with an intermediate anneal process to yield a finished component. Metal Flow discovered that without the intermediate anneal process, dimensional creep during the final braze process on a simple deep-drawn component created final-assembly issues at its customer. A collateral benefit of the high-speed burnish: superior surface finish and consistent cavity definition, enhancing the dimensional integrity of the deep-drawn solution.
Metal Flow's solution delivered $0.70 of savings per injector cup. Depending on the engine/rail configuration (inline 4, V6 or V8), the savings per engine ranges from $3 to $5. Along with delivering these quantifiable savings on the piece-price level, the deep-drawn solution, by nature of the process, also eliminates the porosity-failure mode, which is typical in a machined solution. Metal Flow currently supplies multiple configurations of these injector cups with annual volumes surpassing 5 million pieces.
Sponsored by Ulbrich Stainless Steels and Special Metals, Inc., North Haven, CT, the Product Development Award acknowledges a manufacturing company that demonstrates outstanding innovation in developing and manufacturing a product that best uses metal in place of a nonmetal competitive material, or that develops a product using flat-rolled material that was previously manufactured using more costly manufacturing processes.
Innovation and Technology Award Hatch Stamping Company
Hatch Stamping Company, Chelsea, MI, earned the 2017 Plex Systems Innovation and Technology Award for implementing cloud technology and an enterprise-resource-planning (ERP) system that drives continuous real-time data collection to effectively manage core business functions across its multi-facility organization. The system also helps the company, a provider of highly engineered metal stampings and assemblies for the automotive industry, significantly reduce waste and variation.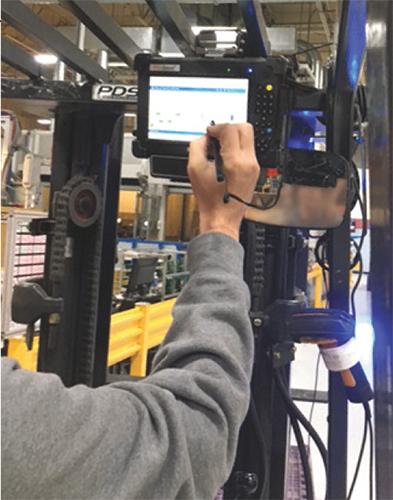 An enterprise-resource-planning (ERP) system drives continuous real-time data collection to effectively manage business functions across Hatch Stamping's multiple facilities. Information routes to all employees via an app, and they can access it from anywhere, including on a hi-lo, as shown in this photo.

Utilizing the system's enhanced program-management tool allows Hatch Stamping to quickly review its 275-plus projects at a glance, hold teams accountable and ensure that customer requirements are met. The ability for customers and suppliers to access and view project information has allowed Hatch Stamping to manage the increased project workload without needing to increase internal administrative staff, who in the past spent countless hours building out manual spreadsheets, redundant forms and task lists in attempts to manage supplier deliverables and customer requirements. The company also holds its suppliers to its Gantt timelines and creates user accounts for them to manage their deliverables.
Customers now have confidence that Hatch Stamping will meet their timing deadlines, as engineering software tools integrate with the ERP system to ensure efficient tracking of a project from launch to production, maintaining 100-percent within-budget and on-time performance.
Implementing the ERP system has delivered numerous benefits for Hatch Stamping, including the ability to see the current real-time status of customer program timing, to hyperlink to complete details of every program with a few clicks of the mouse, and to navigate to multilinked facilities. In addition, a unified menu structure enables users to access information in the same fashion, and all employees can access the system on their mobile and portable devices through Google Apps or iTunes.
The Innovation and Technology Award, sponsored by Plex Systems, In., Troy, MI, recognizes a metalforming company that has implemented cloud technology to drive innovation from a product or business perspective or transform business operations, or leveraged it in order to scale and grow from a size or product perspective in order to emerge as a leader in its industry.
Educational Institution Award Southwestern Illinois College
Southwestern Illinois College (SWIC), Granite City, IL, received the 2017 Clips & Clamps Industries Educational Institution Award for its outstanding Precision Machining Technology (PMT) program, which prepares students with the skills and experience needed to enter a variety of machining fields.
SWIC has invested heavily in state-of-the-art computer labs, manual equipment, CNC machines and quality-control equipment to teach its students, who, during the course of instruction, experience approximately 4 hr. of hands-on practical application for each hour of theory. SWIC offers a 2-yr. Associate in Applied Science degree and a 1-yr. Certificate of Technology in Precision Machining. Additional certificates cover CNC Machining, Advanced CNC Machining, Mastercam and Solidworks. The PMT program, accredited by the National Institute for Metalworking Skills (NIMS) since 2009, has awarded 260 students more than 1500 NIMS credentials.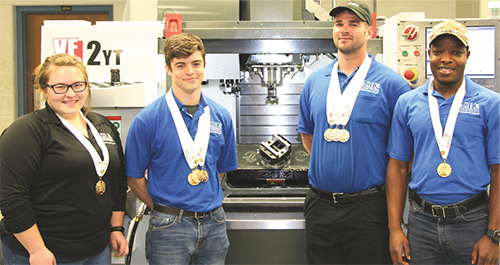 Students at Southwestern Illinois College (SWIC) are all smiles as they show off medals earned at a manufacturing competition. SWIC invests heavily in modern machining and quality-control equipment, with payoffs including the fact that within six months of graduation more than 90 percent of students secure full-time employment in a related industry.

SWIC effectively markets its PMT program by regularly visiting area high schools, an effort led by Mark Bosworth, department head and coordinator of the college's industry technology programs. He conducts summer training sessions for high-school instructors, repairs equipment in the high schools, channels donated equipment and supplies from industry partners to high schools, and arranges tours of modern manufacturing plants for high-school students. Bosworth also established dual-credit opportunities for students to enroll in two of SWIC's PMT courses while still in high school and receive college credits.
National Manufacturing Day represents the largest marketing event for the college's industrial programs. For the event, SWIC invites area high school students to tour manufacturing plants and machine shops, and attend an open house at SWIC's Granite City campus, which includes displays from employers and tours of the technical departments. The event now includes more than 1200 students, and has helped increase enrollment in the college's PMT program.
The school's efforts have been successful in many ways. SWIC students took first place among Illinois students at the 2017 SkillsUSA competition in CNC Milling, CNC Turning, CNC Technician and Automated Manufacturing. Also, students completing the PMT program typically secure jobs as general machinists, toolmakers, CNC operators, CNC programmers, maintenance machinists and inspectors, and CAD/CAM programmers. More than 90 percent of students secure full-time employment in the industry within six months of graduation.
The Educational Institution Award recognizes a public or private educational institution that provides outstanding training and education services to companies in the metalforming industry. It is sponsored by Clips & Clamps Industries, Plymouth, MI, and funded by the Dul Foundation. MF
See also: Anchor Manufacturing Group, Inc.
Technologies: Training