Articles
Waterjets: Much Needed Flexibility for Aftermarket Work
Friday, April 26, 2019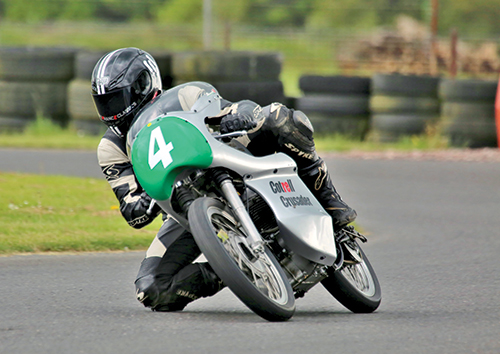 Waterjet cutting machines offer job shops of all sizes flexibility in material use and performance in accuracy and repeatability when producing aftermarket parts for high-performance motorcycles.
For small job shops and major manufacturers alike, turning around custom or nonstandard automotive components on a contract basis requires a significant level of process agility and flexibility to get parts programmed, cut and out the door. These shops also see quality as a crucial element of success. Whether aftermarket shift linkages and floor boards for motorcycles, or state-of-the-art professional racing components, custom products improve upon already high-quality products, and demand remains high. To produce these high-quality parts in the most efficient, cost-effective manner, abrasive waterjet cutting machines represent ideal solutions.
This is particularly true where more and more automotive parts are produced with state-of-the-art materials that are time-consuming, if not impossible, to machine with conventional cutting tools. Abrasive waterjets can cut everything from Plexiglas to titanium and beyond—without requiring cost-prohibitive post-processing, and at speeds that outpace most other CNC tools when factoring in up- and downstream time savings. For example, a part cut on a waterjet machine doesn't need to cool off and often doesn't require further finishing—a major time-saver for fast-moving custom products.
Ideal Option for Small Job Shops
Recent waterjet-technology advancements enable use of these machines even in the smallest job shops. At Dunphy's Cycles Machining LLC, Mukilteo, WA, for example, floor-space constraints prevent the use of most manufacturing equipment, much less a full-sized waterjet cutting machine. Instead, owner and founder Dan Dunphy built his shop around Omax's ProtoMax abrasive waterjet solution, designed for the smallest spaces.
"I wanted to make custom motorcycle parts but knew it would be too time-consuming to program them for a CNC mill and lathe," says Dunphy. "The ProtoMax is so much faster and easy to program, which is why it worked best for us." He first discovered the power of waterjets at his previous shop job, where he often ran parts for his own 2016 Harley Davidson Street Glide Special on its Omax 2626 JetMachining Center. Inspired by its performance and accuracy, he made abrasive waterjet the center of his own shop, a choice he calls "the best decision I have ever made."
The ProtoMax proves ideal for prototyping and relatively low-volume cutting of almost any material less than 2 in. thick. Delivering 30,000-psi cutting power with a 5-hp pump, ProtoMax submerges work material in water for clean, quiet cutting that won't disrupt a shared workspace. Omax's Intelli-Max software controls programming of part files and the cutting operation.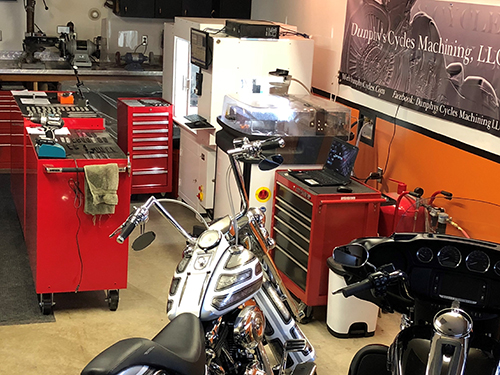 A compact abrasive waterjet cutting machine, such as this one employed at Dunphy's Cycles Machining LLC (white machine in center background of photo), enables production of prototypes and custom parts where floor space is a major concern.
The shop, which also uses a three-axis CNC milling center and several welding machines, no longer produces custom parts for motorcycles exclusively; with the ProtoMax and IntelliMax software package, Dunphy has expanded his part-production operations. Today, the shop cuts parts ranging from gun jigs to boat-motor mounts, in a range of materials that would be impossible to machine efficiently in a shop of Cycle Machining's size without an abrasive waterjet cutter.
Larger Machines for Larger Runs
Of course, as shop-floor space grows, so, too, do the part-production opportunities with waterjet cutting technology. Ashfield Products Ltd., better known as Ash Safety, cuts brass, bronze, Perspex, stainless steel and tool steel to 25 mm thick, producing custom safety parts for high-performance motorcycles and marine engines. An Omax 2626 machine handles these tasks. With its 200-liter abrasive hopper and 30-hp EnduroMax pump, the shop handles materials efficiently, even as its clients push automotive material science to its limits.
Working alongside two CNC turning centers, a vertical machining center and assorted manual equipment, Ash Safety's 2626 has transformed its approach. When owner André Beard started the company in 2008, he sought to address the lack of adequate safety equipment in his prior industry, shoring and safety for construction. Now, his shop's custom rockers, blanked out on the waterjet cutting machine, have appeared on national championship motorcycles while its APL Load Arrestors offer features in demand by companies such as Jaguar Land Rover.
The 2626 JetMachining Center provides the smallest footprint of Omax's cantilever-style waterjet machines, and a completely sealed and protected ball-screw drive system. It features a cutting envelope of 737 by 660 mm, and combined with the hopper and pump, can cut for hours with minimal downtime, according to Beard. Key to the machine's effectiveness at Ash Safety, he continues, is its IntelliMax software.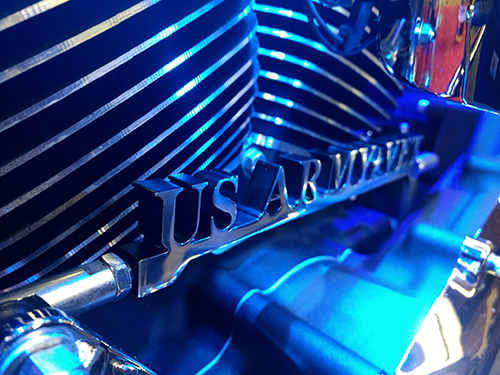 At Dunphy's Cycles Machining, a compact abrasive waterjet cutting machine gets the call when producing custom motorcycle add-ons such as this nameplate.
"The fact that the software is free, including all of the upgrades for the life of ownership, and can be loaded to any laptop I own," Beard says, "has been a large factor in deciding to buy the machine and employ it so widely."
Effective as Classroom and Prototype Tool
This level of flexibility and ease of use makes abrasive waterjet technology a useful classroom tool as well, particularly for engineering coursework that depends on the kind of quick prototyping—and associated need for quick machining—common in the performance racing industry. At the United Kingdom's University of Central Lancashire (UCLan), for example, the Formula UCLan program designs and builds race cars employing an Omax Maxiem 1515 JetMachining Center to help students garner more experience with manufacturing equipment.
"It helps us give our students the engineering-design skills to consider effective methods of production during the design process," says Paul Critchley, UCLan LIS Workshop Services' principal technician. "The engineering industry demands graduates with more practical skills and a much greater appreciation of production methods, and the abrasive waterjet cutting machine has played a key role in helping us to meet that demand."
Critchley and his colleagues have directed students in the creation of parts ranging from brake discs to steel brackets intended for use on race cars, eco-friendly vehicles and superbikes. But the versatility of the waterjet cutting machine extends capabilities even further–the UCLan team has assisted the university's Physics department with ceramic and silicate components. With a cutting envelope of 1575 by 1575 mm, the Maxiem 1515 has proven large enough to handle big race-car components, but precise enough for specialized uses at UCLan while preparing its students for the future of manufacturing.
Provides Opportunities to Grow
The versatility of abrasive waterjet cutting machines allow shops to branch out, grow their businesses and garner expertise in cross-industry applications. In South Australia, for example, Zenith Custom Creations didn't originally house such equipment. When Craig Vanderstelt founded the company in 2001, it was at the behest of peers impressed with his work on a custom transport rig for a friend's sprint car. But he credits his 2017 purchase of an Omax Maxiem 1530 JetMachining Center as a key moment for the company.
"It improved the quality of our end product, and improved productivity and time efficiency," he says.
The Maxiem 1530, featuring a cutting area of 3048 by 1575 mm, has proven ideal for handling the aluminum plates used to construct custom trailers of all kinds, from goosenecks to semitrailers. But the application possibilities have pushed Zenith into new industries, keyed by the machine's linear-motion system that employs digital linear encoders to provide instant micron-level cutting-head-position feedback to the controller to assure accurate part production. New applications for Zenith include projects for the Australian Defense Force.
"The waterjet cutting machine has opened up the market of custom cutting and also allowed us to increase productivity by manufacturing in different ways," says Vanderstelt. "We're saving massive amounts of time and the finished product is better and more consistent." MF

This article was supplied by Omax Corp., Kent, WA; 800/838-0343.

See also: Omax Corporation
Related Enterprise Zones: Fabrication
Visit Our Sponsors