Articles
Prototyping Built Around Press Brake, Offline Programming
Friday, August 1, 2008
"Write what you know," the successful author tells aspiring novelists. Though in a different line of work, Dewey Lockwood has taken the wisdom underlying that advice to heart. Surrounded by press brakes seemingly his entire life, Lockwood has parlayed his experience into Fabricating Solutions, a prototypeshop he opened in 2004 in the Cleveland, OH, suburb of Solon.
The four-employee operation is built around a TruBend 5230 press brake and TruTops offline-programming software from TRUMPF Inc., Farmington, CT, backed by secondary equipment such as fastener-insertion and tapping machines. Fabricating Solutions typically contracts with metal-fabricating and stamping job shops supplying medical, automotive-aftermarket, military and other markets, working with a variety of materials in thicknesses from foil to 1 in.
Geared Toward Prototyping, Capability for More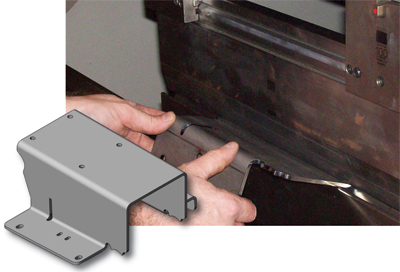 Fabricating Solutions, a Solon, OH, prototyper, used offline programming to design a wheelchair housing for a medical customer, then fabricated it on a press brake. The new design replaced a costly and time-consuming assembly.

"We usually deal with job shops that don't have 3D-modeling capability or off-line programming," Lockwood explains, "and they are trying to win a contract. To do that they have to put a part in a customer's hands. If they give us a model we can give them a part. We also can provide blank development, a time study, a cost study addressing cost of the blank and costs related to press-brake setup, the average number of parts per hour that can be produced and more. So not only can we give customers a prototype part but we can show them what their internal costs will be.

"We also design and develop tooling," Lockwood continues. "We will laser laminate a tool to prove out a process before a customer buys $10,000 worth of tooling to stick in a press brake. Our customers come to us and say, 'we are really good at stamping out 100 to 1000 cookies, but making the recipe for the first cookie is not our thing.'"

The heart of the prototyping operation, the press brake at Fabricating Solutions features redesigned pressure cylinders that, according to Trumpf officials, optimize working space while optimally transferring the press force, resulting in ideal conditions for processing unusually large or thick sheets, or long bends with tight angles. Other plusses include high workpiece quality due to virtual elimination of thermal load on the press-brake frame, and a space-saving roller cover that has replaced doors on the TruBend series. This enables unlimited access to the machine area and offers a small footprint while providing useful storage areas.

Fabricating Solutions performs production work only to bridge the gap between prototyping and a customer having the tools in place to undertake production itself. In addition, the company buys all of its blanks, as, Lockwood notes, prototyping will not support the capital cost of blanking equipment. In fact, many of its customers supply Fabricating Solutions with blanks.

Raised on Press Brakes

"My uncles and father were millwrights, so I was a 'millrat' as a kid, spending my summers at work with them, and I rebuilt a press brake in their shop when I was 14," Lockwood recalls.

Armed with his budding expertise at the Connecticut shop, he took a job just a couple miles down the road with TRUMPF Inc. in Farmington, where he honed his press-brake skills and made a discovery that changed his life.

"As my boss would explain to customers, if the controller was ripped off of the press brake, I could hotwire it and produce parts," says Lockwood, "so I knew how press brakes worked and how they could be controlled. The development of offline programming—development of a part and bending routine at a computer without tying up the press for trial-and-error bending—made me feel like a kid in a candy store. There had als been a gap between engineering and the bending process, and offline programming closed that gap. I understood modeling and making the part, but until offline programming came along, there was no to glue them together. I knew then that I wanted to do this for the rest of my life."

Offline Programming Pays Off

Lockwood has put that philosophy into practice ever since. As an example, he relates a project for a medical OEM best known for wheelchairs and other patient-mobility products.

"When I was still with Trumpf, this customer was looking to improve its fabrication capabilities," he says. "One of my jobs at the time was to take a customer's part, apply it to the equipment, and show the customer how we would make the part. I noticed two engineers from the customer fitting parts together to make an assembly. I looked at the parts and told them the three-piece assembly could instead be made as a single piece. When they were at lunch I went into my 3D modeling software, placed the parts together as a single piece, unfolded it and went out to a laser-cutting machine and made the new one-piece part. They were amazed."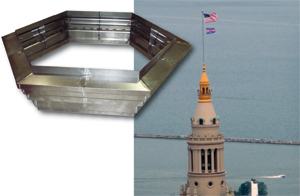 Being a prototyper,
Fabricating Solutions
creates many unique parts, including this
cornice molding
the company designed and formed for
renovation of a
Cleveland skyscraper.
Lockwood has brought that penchant for simplifying part design and removing unnecessary manufacturing steps to Fabricating Solutions, in one case reducing the number of press-brake programs needed to create different types of door parts from 140—one for each part—to three.
"We had a Trumpf V130 press brake with standard tooling, and were programming it each day for about 140 head-hinge and strike-jamb parts," recalls Mike Kolovich, engineering manager at Amweld Building Products, Stow, OH, noting that the programs weren't being stored in the press brake. "We asked Fabricating Solutions to program all of those parts into the brake so that our operator would spend his time making parts instead of constantly programming for each job. Dewey Lockwood looked at the part profile drawings and designed some tooling for us that would let us make all these parts using only three programs. Now, instead of constant programming and constant tool changeovers, we use one set of tooling and three different programs depending on the part profile. This has increased our efficiencies so that instead of producing 50 parts/day we are making 250."
A Logical Approach to Prototyping
Offline program enabled a successful resolution to Amweld's dilemma and plays a big role in the success of Fabricating Solutions.
"Prototyping was performed totally backward ever since Henry Ford came out with the production line," says Lockwood. "Essentially, an engineer takes a lot of time to develop a part and then another engineer takes the time to develop the flat, and then everyone carries it over to a press brake and scratches their heads wondering how to make the part. Offline programming has flipped that around with no need to waste time and waste a blank. On a PC you prove that a part can be made, process the blanks, and then, if the 3D modeling software is tied to CAM software, you prove the part out. Such a setup provides a 99 percent chance of producing the right part the first time and speeds time to market. Internally, many of our customers would burn 28 days going from a 3D concept to a finished part due to all of the steps involved in prototyping the old . So we eliminate all of those layers and put all the thinking up front, not in the rear when the machine is idling, and everyone is figuring out how to make a part." MF
See also: TRUMPF Inc.
Related Enterprise Zones: Fabrication
---
Reader Comments
Posted by: Shane on 5/15/2018 4:36:47 AM - URL: www.machinemfg.com
This is quite an informative article written about press brake, good job
---
Visit Our Sponsors