Servo-Press Technology: Drive Design and Performance
August 1, 2008
Servo-drive technology seems a good fit for metalforming, including its ability to improve the output rate of a press line, reduce complexity of the press, and improve reliability and maintainability. Complexity can be reduced by removing components such as the clutch, brake, flywheel and flywheel bearing, and substituting these with a large electric motor.
Understanding the performance attributes of various press-drive designs provides insight into the advantages and feasibility of servo-mechanical drive design as an option in press-drive selection. Each type of servo-mechanical drive design offers unique pros and cons related to performance, complexity and energy consumption.
Press-Drive Review: Hydraulic, Mechanical and Servo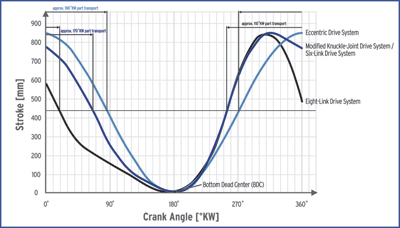 Fig. 1—Motion characteristics of various mechanical drives

Before comparing the types of servo-mechanical drive designs, it's important to understand the specific characteristics and advantages of hydraulic and traditional mechanical presses. The main advantage of a hydraulic press is a fully programmable slide stroke. This means that a hydraulic press can develop full tonnage at any speed, at any point in the stroke. And, the slide can reverse or dwell at any point in the stroke. In a conventional mechanical press, the slide must operate at a given speed to accommodate forming.

Generally speaking, the forming speed of the hydraulic press clocks in slower than that for a mechanical press; therefore the output rate is typically slower. In addition, energy consumption for operation and connected load (power requirement for installation) of a hydraulic press generally runs higher than that for a mechanical.

Conventional mechanical presses feature a variety of drive-design options, including screw, link, knuckle-joint and eccentric, and operate with a variable stroke rate. However, time-travel ratios are fixed, even with an option of adjustable stroke. Therefore, the slowest part of the forming process determines the overall cycle speed and subsequent production rate. This can, in some cases, compromise efficiency. Optimizing production rate and forming with a mechanical press requires development of a variable time-travel ratio for the slide.

Fig. 2—Motion curve for a traditional eccentric-drive press, where speed drops at BDC and TD

.
Each type of mechanical drive has a unique motion characteristic related to its mechanical response to the drive motor (Fig. 1). With a conventional eccentric drive, slide motion travels a sinusoidal curve. Slide speed decreases before bottom-dead center (BDC) and top-dead center (TDC), and increases during closing and opening. Tonnage around BDC increases with constant motor torque, which suits the forming and transfer process in general. Optimizing this basic motion can improve efficiency.