New Product Article
New Line of Mid-Tonnage Servomechanical Presses
Thursday, July 11, 2019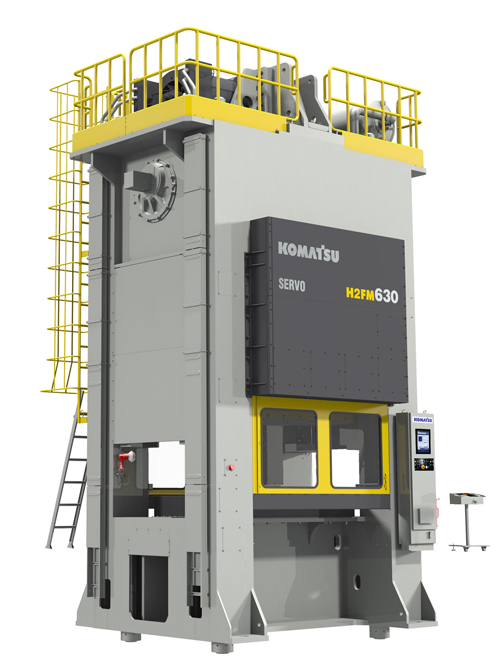 Building on its pioneering servo-press development and offerings, Komatsu has debuted its H2FM straightside servomechanical press, designed for superior accuracy and flexibility, according to company officials.
The press, based on the company's L/E2M-3 series of progressive-die mechanical presses, features a center drive with splined shaft connections and a highly rigid frame for low bed deflection. Its new, high-torque, liquid-cooled servo motor reportedly provides higher speed and more energy in pendulum motion than a conventional air-cooled servo-drive system. Storage-capacitor technology, derived from technology on Komatsu's hybrid outdoor excavators, provides a balanced, stable power supply to the servo motor, enabling a nearly 46-percent reduction in the primary power current supplied to the press—a significant energy-saving feature, according to company officials. In addition, the double-layered, liquid-cooled capacitors reportedly require only half the space of conventional capacitor systems.
To ease operation, in setting slide motion, an operator needs only to select the slide motion required for the die via a menu on the 15-in. color touchscreen, then enters motion parameters such as speed and dwell, and the position in the stroke where these parameters occur. The press control features Komatsu's Visual Inspection and Optimizing Motion systems, allowing the operator to see eccentric loads, forward and reverse tonnage, and slide velocity graphically.
Available is KomTrax web-based software for monitoring production status. Advanced features include Drive Recorder, which employs digital cameras located in the die space to record misfeeds or other production-halting errors. Along with digital signals and waveforms, these images aid in troubleshooting. KomTrax options enable monitoring of other line components such as coil feeds.
Specifications for the 400-ton H2FM include 600-750-mm die height, 250-mm slide adjust and minimum bed size of 2450 by 1300 mm. Pendulum motion maxes out at 88 strokes/min. at a stroke length of 150 mm, to 106 strokes/min. at a stroke length of 80 mm. The H2FM also is available in standard capacities of 630 and 800 tons.
See also: Komatsu America Industries, LLC Press Technology Division
Related Enterprise Zones: Automation, Presses
Visit Our Sponsors