Articles
Waterjet Cutting--The Right Tool for the Job
Sunday, February 1, 2015
Many a metal fabricator enters the precision cutting market banking on plasma- and laser-cutting machines. Each technology has its niche, balanced on factors such as workpiece material type and thickness, part complexity, edge-condition requirements and dimensional tolerances. Those choices become even more complex when deciding between CO2 and fiber lasers, and standard and high-definition plasma.
Making sure it uses the right tool (or technology) for the job at hand is exactly why metal fabricator Cupples J&J has one of the longest equipment lists I've ever seen. We're talking 15 laser-cutting machines, 24 press brakes, three CNC punching machines, 17 robotic-welding cells and three stamping presses. And, the list goes on and on, including a fully equipped machine shop and quality department. One of the latest additions to the shop came late in 2012—a waterjet-cutting machine.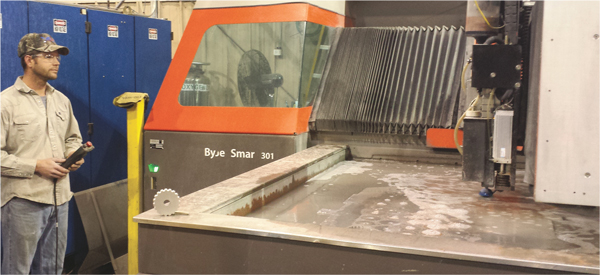 "Compared to other waterjet machines we've seen, the ByJet Smart (shown) cuts with a shorter distance between the cutting head and the workpiece, around 0.060 in.," says Jeff Cupples. "This minimizes the amount of waterjet-stream divergence and optimizes cut quality—edge straightness and kerf width."


Adding waterjet-cutting capabilities to an established metal-fabrication shop "often is the next step in the life of a fabricator that already has expertise in laser and plasma cutting, to increase thickness capacity," says Tom Price, regional manager for Bystronic, a manufacturer of waterjet-cutting machines and other types of metal-fabricating-equipment. "We see this often, including at Cupples J&J, where (vice president) Jeff Cupples always is looking for the next big thing. He saw what other fab-shop managers see—that waterjet cutting promises to open doors to new markets."

Nourished by Pringles

Cupples J&J operates a pair of manufacturing plants—a 120,000-sq.-ft. main fabrication plant in Jackson, TN, and a 55,000-facility in nearby Dyersburg, TN. With its roots tracing back to the late 1960s, the firm experienced quick and healthy growth throughout the 1970s on a steady diet of work from a nearby Proctor & Gamble factory, cooking up the popular Pringles brand of potato crisps.

"They were our original big-time customer," says Cupples, whose father James Cupples (in 1969) founded and still runs the company. When James moved the company in 1979 to its current location in Jackson, 11 employees toiled in a 12,000-sq.-ft. factory. A steady diet of work manufacturing Pringle-processing and packaging equipment helped to fuel the firm's appetite for fabricating and machining equipment, "allowing us to grow to a size where we could look at expanding into new markets," says Cupples. Among those new markets were OEM manufacturers of lawn and garden equipment, tractors and other heavy equipment, as well as steelmaking and processing facilities.

Today, the Cupples J&J customer list numbers more than 300. Recounting the firm's evolution, Cupples notes that "we got into laser cutting in 1997 and that really started us on a roll. We saw that laser was becoming a great tool for accomplishing specialty-product fabricating. The key trigger for us was when the technology developed to allow clean cutting of 3⁄8-in.-thick stainless steel. Almost from the start, we had that laser-cutting machine running 24/7, so we bought another one."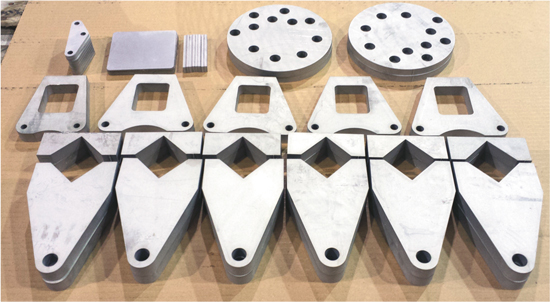 Cupples says that his waterjet-cutting machine is yet another example of having the right tool for the job—the "missing link." An example of the type of work the machine takes on: these parts waterjet-cut from 5⁄8-in.-thick Type 304 stainless steel, "where edge quality from laser- or plasma-cutting would not be up to the company's standards," says Jeff Cupples.

And so it went, as the firm picked up a head of steam and kept gaining acceptance as a diversified metal fabricator. Highlighting its laser-cutting resume now are six 6000-W laser-cutting machines—three CO2 machines and three machines equipped with fiber resonators.

"Our plan of attack always has been to support our customers by investing in the fabricating equipment needed to outfit their production lines," says Cupples. The company manufactures products such as food-processing and lawn-and-garden equipment, agricultural products and steel-processing apparatus.

The Missing Link

With plenty of capacity to fabricate steel and aluminum to 11⁄4 in. thick, as well as machine heavier gauge work, "we started (in 2011) to recognize a need for cutting heavier gauge aluminum," says Cupples. "While we could plasma-cut thicker plate, the edge-hardening resulting from the process, along with the accompanying heat-affected zone, made it difficult to further machine (edge-finish and drill and tap holes) the cut parts to meet customer requirements. And, even when laser cutting 11⁄4-in.steel on our 6-kW machines, the cut edges often were not quite up to our cosmetic standards."

To fill that niche and once again "find the right tool for the job," says Cupples, the firm invested in a dual-head waterjet-cutting machine (a Bystronic ByJet Smart).

"We had so many capabilities to offer at the time (before adding the waterjet machine)," Cupples recalls, "but some of the work running on the lasers and on the plasma machine were not running very efficiently. For example, for our steel-mill customers, we were plasma cutting 2- to 4-in.-thick steel, and the edge hardening made it difficult to finish-machine the parts—drill and tap holes and mill pockets. Waterjet became the missing link."

Now, the firm sends nearly all of its work thicker than 11⁄4 in. to the ByJet Smart. Its 6-kW fiber-laser machines take on steel from 11 gauge to ¼ in. thick. "Thinner than that and we often use our high-power CO2 laser-cutting machines, with compressed air," Cupples notes. "We're very good at compressed-air cutting. It's a lost art, and allows us to, with our CO2 machines, match the production costs of a 4-kW fiber laser. We didn't see the need to go with fiber until manufacturers came out with higher-power (6 kW) machines."

'Steeling' Business

Since bringing the waterjet machine inhouse, about half of the work on its 5- by 10-ft. cutting table has been projects already being cut inhouse using other, "less efficient processes," Cupples says, "that now run more productively on the waterjet." For example, Cupples cites waterjet cutting of aluminum machine frames at twice the speed of machining on a bridge mill. And, for manufacturing machine side frames from 2-in. steel, the ByJet Smart carves the profiles in one step with finished edges, whereas machining the profiles required a two-step milling operation.

"In some cases the cost of waterjet cutting is the same as that for machining, but the edge quality is superior," Cupples says. "And, in other cases we've been able to substantially reduce our costs, by as much as 50 percent, opting for waterjet cutting instead of machining."

Work for new customers represents the rest of the waterjet work. "We're getting a lot of waterjet projects from several of the steel-service companies in the region," Cupples notes. One interesting waterjet project of note, explains Cupples, is fabricating bar stock from thick plate.

"Last year (in mid-2014) we had a need for several feet of Type 410 stainless-steel bar stock, for a customer manufacturing food-processing equipment," he recalls, "and the mills typically only make so much of that particular product. Short on supply, we fabricated our own bar stock by waterjet-cutting 1.75-in.-wide bars from ¾-in.-thick, 5- by 10-foot plate. On that job alone we saved $11,000 compared to purchasing the bar stock—assuming we could have found it in stock."

Precision, from Riding Close

Cupples sees the Bystronic waterjet machine as "a precision machine tool, not just a waterjet head hanging off of a typical CNC cutting table," he says. "Compared to other waterjet machines we've seen, the ByJet Smart cuts with a shorter distance between the cutting head and the workpiece, around 0.060 in. This minimizes the amount of waterjet-stream divergence and optimizes cut quality—edge straightness and kerf width. The more precise the machine, the more precise our cuts."

Bystronic rates the machine to a positioning accuracy of plus or minus 0.003 in./axis and repeatability of ±0.001 in./axis. Maximum positioning speed is 1100 in./min. (simultaneous x-y axes); the 9-in. Z axis allows a maximum workpiece thickness of 8 in.

Achieving such precision while positioning the cutting head so close to the material requires good material, Cupples insists. "We buy all stretcher-leveled material from 16 gauge to 1 in. thick, flat and stress relieved," he says. "And for thicker plate, we buy the best-quality material we can find, SSAB plate. We completely switched over to stretch-leveled sheet and plate in 2011, working with Universal Steel (in Cleveland, OH) to develop a process to laser-cut 1-in. stretcher-leveled plate."

Universal Steel calls its stretcher-leveler the "memory eraser." Compared to temper-passed material, a process that changes the grain structure of the material, explains Cupples, stretcher-leveling better inhibits the tendency of the material to spring back during forming,

"Stretch-leveling elongates the grains and relaxes the material," Cupples says. "The material is good and flat, so that the waterjet and laser-cutting heads can ride closer to the surface. And, we don't experience the edge cracking during forming nor the edge hardening from laser cutting. This allows us to machine—mill the edges or drill and tap—at higher speeds."

MF
See also: Bystronic Inc.
Related Enterprise Zones: Fabrication
---
Reader Comments
Posted by: Sean on 6/9/2015 5:30:57 PM - URL: http://www.candjsheetmetal.com.au/services/waterje
I like the story about how Cupples J&J started. I think that is a really smart way to grow a business, especially something like a waterjet cutting business, or any other type of fabrication, or manufacturing business. The most important thing is to focus as tightly as possible on what creates profit. Once you create enough profit from that, it is much easier to get into new markets.
---
Visit Our Sponsors