Next-Gen Systems for Engineering-Grade Parts
February 1, 2015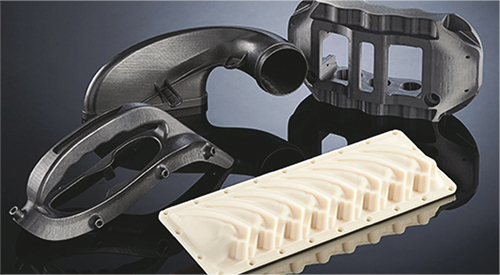 Stratasys, Minneapolis, MN, has introduced the Fortus 450mc and Fortus 380mc 3D-printing production systems, designed to provide high-quality engineering-grade parts. Metalformers can use the machines for prototype development and reduce new-product time market; create jigs and fixtures; and produce low-volume end-use parts.
"This new generation of 3D printers will improve the customers' overall experience," says Bill Schultz, senior director of FDM (fused deposition modeling) products for Stratasys. Complex geometries now take less time to print."
The Fortus 450mc has a build envelope of 16 by 14 by 16 in. and can produce layer resolutions from 0.005 to 0.013 in. A digital touchscreen allows users to make adjustments to their print job without interrupting the printer. The full-color display provides model and support head temperatures, calibration settings and lists print jobs in the queue.
The Fortus 380mc (14 by 12 by 12-in. build envelope) includes the same advanced features as the Fortus 450mc, including even temperature distribution in the build chamber and a digital touchscreen. It's ideal for large and midsize manufacturers producing complex, smaller parts such as fixtures and tools.
www.stratasys.com
See also: Stratasys, Inc.
Technologies: Additive Manufacturing