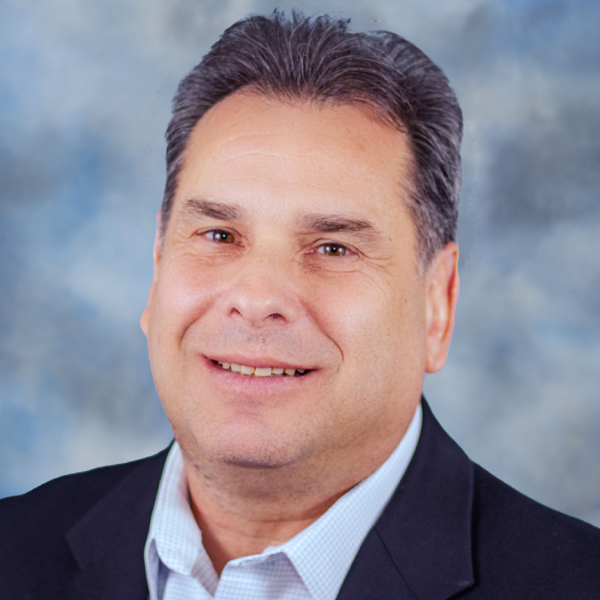 Brad Kuvin
CAD Efficiency—Fewer People, Twice the Productivity
February 1, 2015
Customers do not always send perfect part files for import into die-design and development software. That's a fact of life. So the question then becomes, how do die designers charged with overcoming such "sins"—and there are many—develop new dies in a timely way?
At stamping-die and injection-mold house Jamesway Tool & Die Inc., Holland, MI, "we don't always need perfect solids for our CNC machines," says die designer Mark Gortsema. "With some of the 3D CAD products available, dealing with such sins can be a technical nightmare and waste a lot of time."
Up until early 2014, Jamesway designed stamping dies in 2D using AutoCad. When, for several reasons, it decided to invest in 3D design, it sought a design-software package that could deal with imperfect files. Ultimately, it decided to go with CimatronE—the software it has been using for mold design since 2009.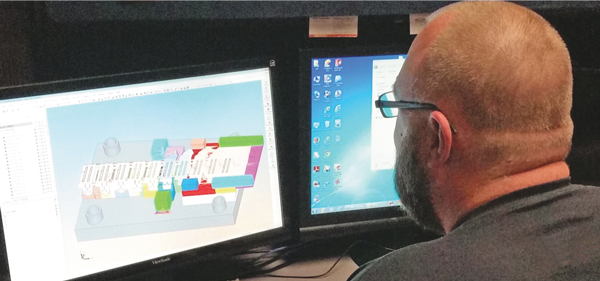 Jamesway die designer Mark Gortsema uses Cimatron software to design dies in 3D. "Cimatron doesn't care if part files are full solids or not," he says. "At the end of the day, I just need to machine the blocks to get them into the wire-EDM machine. Cimatron gets us there more quickly, allowing us to repair solid files efficiently by healing and stitching data where necessary." Here, Mark reviews the bottom half of a die, with the die drawn in 3d so he quickly can spot any interference of die components.


"Cimatron doesn't care if part files are full solids or not," says Gortsema. "At the end of the day, I just need to machine the blocks to get them to the diemakers. Cimatron gets us there more quickly, allowing us to repair solid files efficiently by healing and stitching data where necessary. And, the ability to work with non-stitched models and poor-quality imported data is huge from a profitability standpoint.

"For example," Gortsema continues, "if there's a 0.005-in. gap between die faces, I can still get the job into the CNC machine and make good parts. That's the bottom line, and what matters most."

More with Less

Jamesway's roots are in the stamping-die business, launched in 1976 as a builder of progressive dies. The firm branched out in 1981 into plastic injection molds, and today the business is split roughly 50-50 between dies and molds.

Until 2009, the firm had been using several software products to move from quote to design to production, explains owner Mark Rozeboom. "Now we do everything in Cimatron, streamlining our entire process. We've been solely using Cimatron for mold design since 2009, and in mid-2014 we moved completely to Cimatron for die design as well. Now, the designer (Gortsema, in the case of die work) uses native files from Cimatron—he no longer has to export and convert files. This preserves the associativity of the data across the board."

Having mold and die design and CNC programming under one proverbial umbrella has greatly enhanced the firm's efficiency, says Rozeboom. While the firm once employed 30 people, today the headcount numbers 20, with the same or perhaps a little more revenue on the books annually.

"We used to, for example, have four mold designers/programmers, and two working in die design," Rozeboom says. "Now we have one die guy and two mold designers. So, we're twice as productive and the work flow is greatly enhanced."

The improved work flow shows itself not just in the engineering office but also out on the shop floor, where Jamesway's tool builders and machinists work. A pair of CAD viewing stations (powered by Cimatron) on the plant floor provide visual tools to help guide the tool builders, a significantly more powerful instructional aid compared to 2D prints.

"The viewing stations let our operators view the 3D die-section and component models, and cut sections to enhance their visualization when evaluating the manufacturing-process instructions," says Gortsema. "This provides a much more efficient build process, and eliminates much of the need for the builders to seek out designers with questions should any instructions initially be unclear."

Enhanced visualization of the developed tool sections also greatly improves communications with customers. "Now we can send actual, virtual strip layouts to them," says Rozeboom. "This streamlines the back-and forth communication process between our engineers and theirs, to fine-tune the die design as needed."