Articles
New Feeds--the Ideal Route for Auto Supplier
Saturday, September 1, 2018
Since 1987, Yorozu Automotive Tennessee, Inc. has stood smack dab in the middle of high-volume automotive-component production. With 1300 employees and 500,000 sq. ft. of manufacturing space in the small Tennessee town of Morrison, Yorozu Automotive Tennessee primarily manufactures chassis products, mainly subframes and control arms, as well as trim products such as brake-leveler assemblies and oil pans. Material destined for the company's 16 mechanical-press lines includes mostly steels in thicknesses from 1.8 to 4.5 mm, with lot sizes reaching 5000.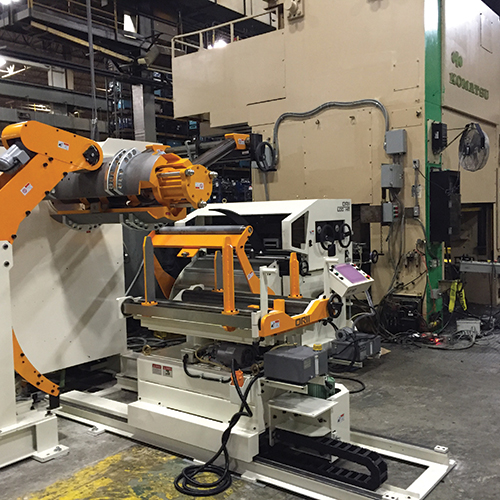 This recently installed straightener-feeder, on a 300-ton blanking line, represents Yorozu Automotive Tennessee's efforts to modernize its press lines, to ensure reliability while prepping for new work that requires increased material-feed capabilities.

Among those press lines, eight are blankers, in capacities from 150 to 1000 tons.

"On a typical blanking line, we'll run as many as four jobs per shift, and within each of those may be three or more coil changes," explains Mike Rogers, senior vice president.

The company, steeped in just-in-time production, goes seven days max. from coil to finished goods, with 1.5 to 2 days of work-in-process between stamping and subsequent processes— assembly and painting among others.

Dependable Blanking Lines a Must

It's rapid work, so bottlenecks are a no-no. And, bottlenecks early in production only multiply manufacturing challenges. Case in point is blanking. As mentioned, the manufacturer employs eight blanking lines, with all relying on accurate, reliable feeding to correctly start processes.

"Our blanking lines had been operating for 30 years, and so have the feeders," says Rogers. "So we began looking at options. We could perform mechanical rebuilds on the feeders, as parts are still available."

Control systems also needed replacement, as they had become outdated.

"Mechanically rebuilding the feeders would require extensive downtime," Rogers recalls, "while electrical (control) upgrades could take place in a few weeks, which fit into the scheduled automotive shutdowns. But because mechanical rebuilds take so much longer, we could not accommodate the required shutdown lengths."

Besides downtime, cost turned the tide against mechanical rebuilds.

"A full mechanical rebuild and controls upgrade approached 70 percent of the cost for a new feeder," Rogers says. "So we chose to replace many of our feeders with new units."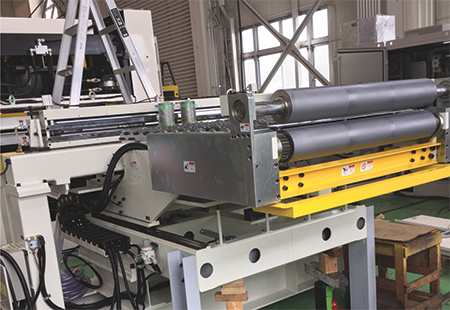 Installation of new feeder-straighteners allows Yorozu Automotive Tennessee to increase capabilities beyond what could be accomplished with upgrades of existing units.

The company thus embarked on a program, now three years in, to replace its feeder inventory. When Yorozu Automotive Tennessee first opened, it had specified Oriimec feeders for all of its press lines, but chose a different supplier for initial replacement on one existing blanking line and for a new press line. It quickly became apparent that quality and capabilities were lacking, according to Rogers. So, in 2016, the company chose to replace existing feeders on three of its remaining six blanking lines with Oriimec units through Oriimec Corporation of America. Consideration is underway for replacement on the other three.

"As far as setup, the ability to straighten material and feed accuracy, we prefer the Oriimec units," says Rogers.

New Units Boost Capabilities

Purchases included Oriimec's top-of-the-line coil straightener-feeder, installed in January 2017 on a 400-ton blanking line. The LCC 13GD2 model can handle stock from 70 to 1300 mm wide in thicknesses from 1.4 to 12 mm. Its heavy-duty power combined with nine work rolls (five upper, four lower) provides a high degree of flatness capability, according to Oriimec officials. The unit, designed to allow simple access to its inside structure, features work rolls that can be opened as much as 20 deg. to ease roll cleaning.

Handling material to 12 mm thick, the new straightener-feeder doubles the thickness capacity of the press line's previous unit.

"The increase in thickness capacity allows us to insource some products that previously had to be manufactured on the outside," says Rogers. "Some of our automotive components use material from 9 to 12 mm thick, and we can bring that work back inside and avoid higher outsourcing costs."

Other recently installed Oriimec straightener-feeders include a LCC10HR3 model on a 300-ton blanking line, which includes an energy-saving roll-lift mechanism with automatic control of pneumatic-cylinder pressure. This straightening feature enables optimization according to stock thickness and achieves 30 to 50-percent energy savings, according to Oriimec officials. The compact unit handles material from 400 to 1300 mm wide in thicknesses to 6 mm. Another key feature: a large straightening-roll-adjustment hand wheel that uses symbol indicators to permit simple numerical setting and improve repeatability.

And, a compact LCC04HF4-model feeder-straightener on a 160-ton blanking line provides flexibility to handle various material types, widths and thicknesses, as well as two sets of entry coil-width vertical-guide rollers. Also, feed-roll pressure can be adjusted easily via an air cylinder.

Positioned for Future Work

Overall, the new feeder technology is expected to help as Yorozu Automotive Tennessee gravitates toward higher-strength part material.

"To date, 590 MPa represents our highest-strength steel used in the Tennessee facility, but for new business expected within the next couple of years, 780-MPa material is required," says Rogers, "and we feel that the new feeders will handle that work. For what we do, we need robust equipment and these are durable feeders. That was another reason for adding the new equipment." MF

See also: AMADA ORII America INC.
---
Reader Comments
There are no comments posted at this time.
Visit Our Sponsors