New Product Article
Twin-Turret, Twin-Head Wire-Bending Machine
Thursday, December 6, 2018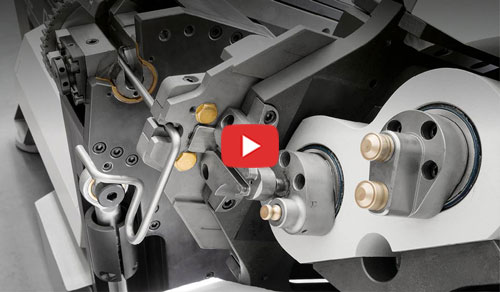 BLM Group USA has debuted its all-electric DH4010VGP wire-bending machine, featuring twin turrets and twin heads capable of doubling productivity and/or completing highly complex wire-bending jobs, according to company officials.
The machine is especially well-suited for medium-to-long part lengths with multiple bends, symmetric parts, and parts that close back onto themselves.
It cuts wire free from the coil prior to the bending operation, eliminating twisting that can occur when working from coil, and delivers flat, bent wire parts.
The DH4010VGP can be fed via coil stock or pre-cut straight lengths of wire in diameters to 10 mm. It can accommodate tools that produce superior surface finishes, making the machine ideal for furniture and design applications.
By working with two heads at the same time, the unsupported length of wire is reduced as well as the potential flex that can occur during the bending operation. This reportedly allows for the machine to more quickly bend parts. And, the retractable 3D handler enables the last bends to be made with the bending heads in mutually adjacent position, minimizing the intermediate stretch between the two bending branches. This enables production of traditionally difficult to fabricate parts.
See also: BLM Group USA
Related Enterprise Zones: Fabrication
Visit Our Sponsors