Updated CAD/CAM Nesting Software
December 6, 2018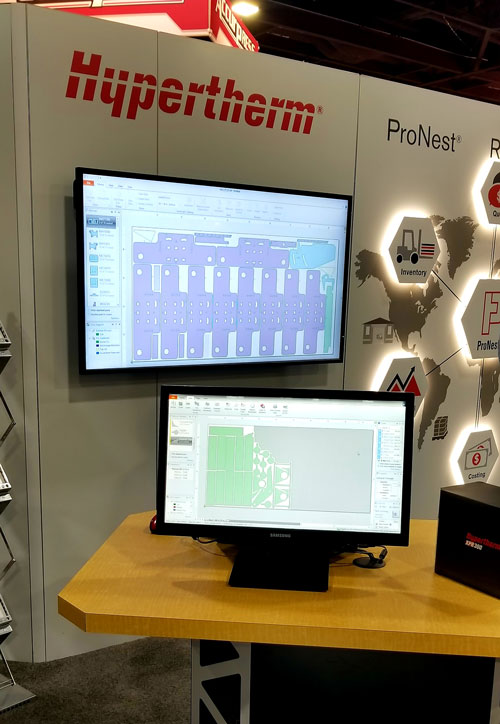 Among many innovations Hypertherm showcased at FABTECH was its ProNest 2019 CAD/CAM nesting software. Designed for advanced mechanical cutting, it can handle all profile cutting needs for plasma, laser, waterjet and oxyfuel cutting machines.
A major version update, this new release contains more than a dozen new features and enhancements designed to make customers more efficient and profitable. For example, with Smart Drag, manual nesting becomes much more fluid and intuitive. With existing parts on the nest, parts easily can be fit along the contours of other nested parts and the plate edges. The software also enables fly cutting, designed for laser cutting on thin materials. Fly cutting is a method of cutting the aligned edges of different interior profiles together in a straight line. Pierces are produced without slowing down or stopping the cutting head.
Also, a new Skeleton Cut-Up setting allows skeleton lines and exterior part profiles to be cut together in groups. All skeleton lines intersecting the exterior profile will be cut first, followed by the exterior profile. The sequence will then move on to the next group of skeleton lines and parts.
In addition, several areas in ProNest 2019 use a more modern breadcrumb-style folder explorer, allowing for quicker and easier folder and file browsing, and the software's Production Manager interface has been updated with a newer look and feel to ease use.

See also: Hypertherm, Inc.
Technologies: Fabrication