New Abrasives Line Includes Flap Discs, Quick-Change Discs
May 7, 2019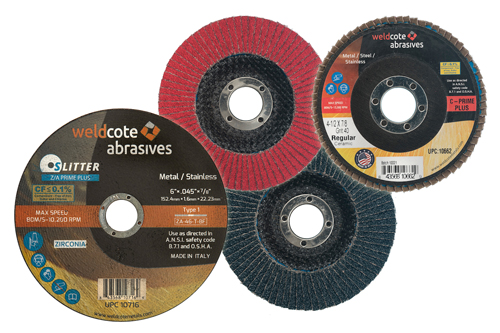 Weldcote Metals announced the availability of a comprehensive line of metalworking abrasives, including more than 900 product items. Included is a line of U.S.-made flap discs, featuring multiple bonding and backing systems, backing plates and design shapes for a variety of applications. The flap-disc materials, formulated for a variety of metals, include ceramic (C-Prime and C-Prime Plus), zirconia (Z-Prime and Z-Solid), aluminum oxide (A-Prime) and aluminum (Alu-Prime).
Also new: quick-change discs, as well as Korner flap discs, resin fiber discs and flap wheels. High-quality, resin-bonded abrasives are now available due to an exclusive Weldcote relationship with an Italian abrasives manufacturer, Prime, as well as a partnership with a Chinese supplier, Solid. The Weldcote abrasive program also covers a full line of cutting wheels, branded as Slitter, Notch pipeline wheels and grinding wheels.
See also: Weldcote Metals Inc.
Technologies: Fabrication, Finishing