New Hydraulic-Ironworker Options Include LED Lights
May 7, 2019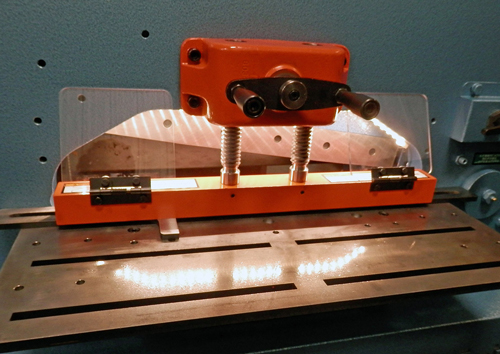 Scotchman Industries released three new options available for the company's current hydraulic-ironworker models, designed to make the equipment more efficient and user friendly.
New, low-profile LED worklights (pictured on an ironworker shear station) come factory-installed, with optional retrofit kits available for infield retrofitting to existing Scotchman ironworkers.
Jog motor controls now are available for new Scotchman 50-ton ironworkers, providing increased precision when setting the stroke control. This feature is especially helpful when aligning and positioning tools and while performing regular machine maintenance.

New Scotchman snap-ring-removal tools for #20 punches simplify an otherwise tedious task, according to company officials. The tools are sold separately or can be included with the purchase of a #20 punch and die package.

See also: Scotchman Industries, Inc.
Technologies: Fabrication