Robotic 3D Inspection System
December 6, 2018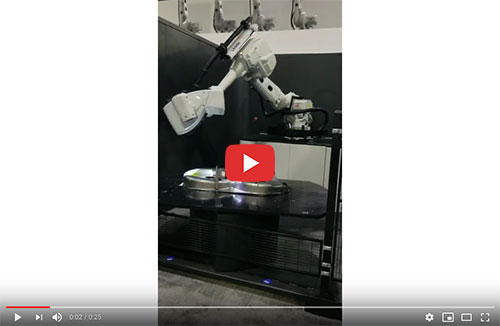 ABB's Robotic Inspection System, showcased at FABTECH, was developed through collaboration between ABB and Nub3D, a provider of digital, 3D inspection and quality-control solutions that ABB subsequently purchased in 2017. The system consists of a 3D white-light scanning sensor mounted to the arm of an ABB IRB 4600 robot, relying on the agility of the robot to provide the precise movements necessary for the sensors to access most areas of both simple and complex parts from the optimum angle.
The sensor technology rapidly records and compares highly detailed geometric and surface data with digital CAD models, enabling the automated inspection of manufactured parts and pieces, helping factories to reduce cycle times while raising quality and reducing the risk of quality control errors, according to ABB officials. The turnkey inspection and quality-control system is ideal for automotive OEMs, aerospace companies and customers in other metals and plastics sectors.
In operation, the system employs a 3D optical scanner with structured white-light technology to compute a point cloud, which is then compared to the CAD model. The system is different from many competitive systems that use a laser scanner to do the measurement, according to company officials, as it provides an enhancement because every shot taken provides 1.5 and 5 million points for the system's Sidio Lite or Sidio Airus scanner, respectively. The benefit of this improved accuracy: earlier detection of component degradation. When components start to degrade over time (dimensionally) or small imperfections start to appear, they will be detected earlier with the ABB system, where other inspection solutions would allow the part to pass through, claim company officials.

See also: ABB Press Automation Solutions
Technologies: Fabrication, Pressroom Automation