Light Indicator for Assembly and KItting Applications
December 6, 2018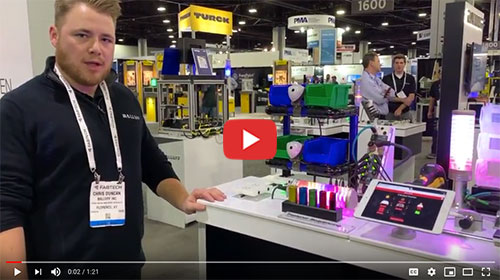 Chris Duncan, marketing specialist for Balluff Inc., took time during FABTECH to demonstrate the SmartLight Indicator for assembly and kitting applications. SmartLight functions include display of the adjusting direction, the pacing times for work processes, wait times in the workflow, and representation of remaining production steps. Wrong picks also can be detected or bin levels quickly verified.
Six independent, ultra-bright, multicolor LED segments operate in different modes: in Segment, Runlight and Level mode or for representing the safe state. The IO link provides user guidance; enables Industry 4.0 functionality; and allows for plug-and-play connectivity for PLC and PC-based systems, with modes, colors and status directly available in the process data.

See also: Balluff, Inc.
Technologies: Fabrication