Expanded Lineup of 1.5-hp Grinders and Sanders
December 6, 2018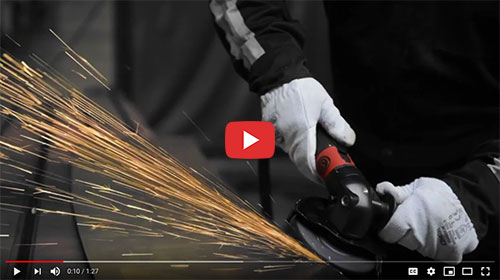 Chicago Pneumatic offers an expanded lineup of grinders and sanders, courtesy of the CP3550 series. These pneumatic tools are designed for use in high-volume fabrication environments where power and extreme durability are a must. The line of 1.5-hp industrial grinders and sanders now includes a die grinder, extended die grinder, slow-speed angle sanders, extended-angle sanders and a 6-in. angle grinder.
The series is designed and built with controlled power, optimal safety, user comfort and efficiency in mind, according to company officials. It provides solutions for grinding, chamfering, weld preparation and cleaning, cutting, finishing and sanding, and other applications. All tools in the series boast a powerful motor to ensure optimum surface-preparation results in the shortest possible time, according to company officials, enabling users to improve efficiency and reduce the time taken to complete their tasks.
The new extended range of the CP3550 grinders and sanders offers users the ability to select the tool best suited to specific applications. Other features include a rotating swivel that eliminates air-hose kinks and eases operation, and a keyless adjustable guard that ensures safe operating position.

See also: Chicago Pneumatic
Technologies: Fabrication