Previews
Innovative Feed Control
Wednesday, September 14, 2011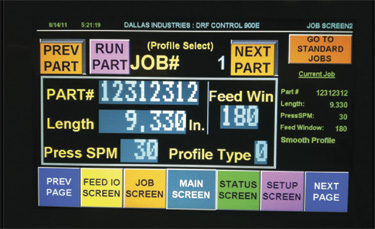 Dallas Industries, Troy, MI, will demonstrate its unique ProfileSelect feed control, explaining how it can minimize electrical and mechanical stress on stamping equipment and material. While typical press controls use a trapezoidal profile, which result in quick, jerky motions that have a chance of slipping and stressing the die and material, the ProfileSelect control uses a sinusoidal profile (cam motion). This provides a smooth motion and material feed while utilizing 100 percent of the press-feed window, putting less stress on all of the mechanics. ProfileSelect is suited for progressive-die work, when the part's cosmetics are a factor or when using delicate material. ProfileSelect controls have an HMI touchscreen and come standard on new Dallas press-feeding equipment. The control also can be retrofitted to most existing lines. Dallas also will showcase two of its servo press feeds connected to a networking, monitoring and analysis system for communicating to the plant floor while monitoring and analyzing equipment efficiencies and providing reports.
See also: Dallas Industries
Related Enterprise Zones: Coil Handling
---
Reader Comments
There are no comments posted at this time.
Visit Our Sponsors