Articles
Waterjet Cutting--The Swiss Army Knife of Metal Fab
Friday, July 1, 2011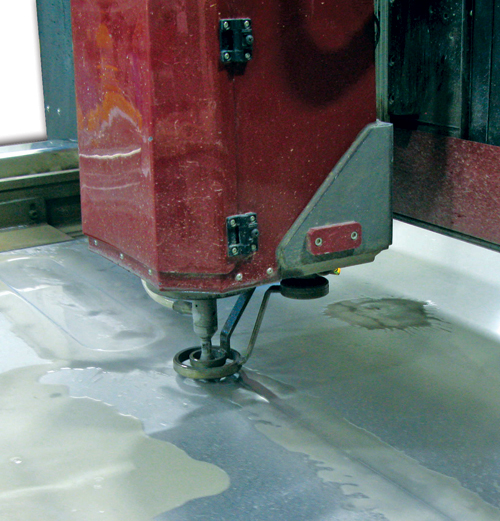 Early this year Twinco replaced a 60,000-PSI waterjet-cutting machine with this Mitsubishi Suprema DX510 outfitted with a KMT Waterjet Streamline Pro 60-hp 90,000-PSI pump. The 50-percent increase in pressure allows the firm to process thicker material and increase cutting speed on thin work, while maintaining edge-and surface-quality tolerances.

Perhaps the folks at Merriam-Webster should add to their definition of the word "versatile" some mention of the waterjet-cutting process. I come to this conclusion after speaking with those in charge at Twinco Mfg. Co., Hauppauge, NY. The very vertically integrated manufacturer primarily serves regional transit companies, fabricating automatic train stops, impedance bonds, relays, contacts and other electromechanical devices. Its 50,000-sq-.ft. facility houses CNC machining, stamping, molding, fabrication and assembly operations.

"We manufacture inhouse as much as possible," says operations supervisor JC Schatz (whose father John is the company's president), "due to the low-volume high-mix nature of our work. Also, downtime is critical to our customers. Any delay in obtaining replacement railroad parts costs the transit authorities dearly. Inhouse control of the manufacturing operations allows us to turn on a dime and truly serve the customers."

Twinco's vast range of capabilities has both Schatzes pledging to grow the company's contract-manufacturing business (aside from its work for transit authorities) from five percent currently to 15 percent within the next two years.

Making the World from Fabricated Sheet and Plate

Twinco's roots trace back more than 45 years, as a tool and die shop providing electromechanical components for equipment OEMs serving the railroad industry. In the 1980s it began to work more and more directly for the transit authorities (New York City, Chicago and others).

"The key to our success, says John Schatz (whose father founded Twinco in 1963), "is being able to offer a wide variety of inhouse processing capabilities, so we can select the best process for each specific job, particularly the low-volume (one to two) high-mix jobs. Doing all of the work inhouse allows us to inspect in-process, not after the fact. We don't inspect quality into our parts; we manufacture quality into our parts."

Twinco's latest vertical step to diversification: the addition of waterjet cutting. In 2005 the firm added a 60,000-PSI machine, coinciding with its move to its current location from a much smaller 22,000-sq.-ft. shop.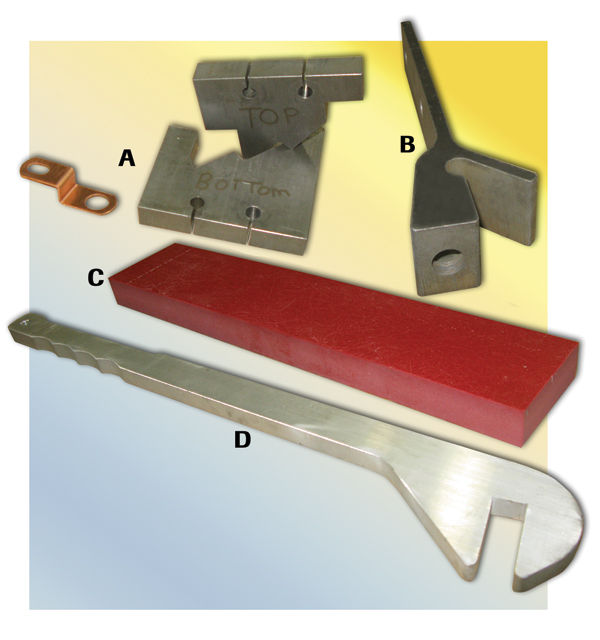 This sampling of parts cut by Twinco on its waterjet machine displays the machine's broad range of capabilities.

A) A copper-alloy train-signal part waterjet-blanked from 1⁄6-in. sheet and formed in a stamping press; and the set of tools (of prehardened 4140 tool steel) used to form the copper part, also fabricated via waterjet cutting.

B) Twinco typically machines this part—a column clamp for elevator structures—from a casting. However, in this case, the flange is longer than usual and the order quantity was only 50, so Twinco waterjet-cut the part from 2-in. hot-rolled steel, then machined the holes.

C) The red plate is 2-in.-thick GPO 3 fiberglass-reinforced polyester.

D) Twinco waterjet-cut ¾-in.-thick aluminum plate to fabricate this wrench, used inhouse during testing of the train stops it manufactures.

"Waterjet cutting really is like the Swiss Army knife of metal fabrication," says JC, "allowing us to cut all sorts of materials—metal alloys, plastics, rubber, glass, etc. Much of what we traditionally manufacture—train-stop housings and similar products—have been made of machined castings, but we see opportunities to more cost effectively manufacture these products by fabricating sheet and plate, and waterjet cutting helps facilitate that. Along the same line, we've recently added a press brake and, later this year, plan to invest in a robotic-welding cell to bolster our fabricating capabilities."

90-KSI Cutting

Early this year the firm upgraded its waterjet-cutting capabilities by replacing its 60,000-PSI machine with a 90,000-PSI machine, a Mitsubishi Suprema DX510 outfitted with a KMT Waterjet Streamline Pro 60-hp 90,000-PSI pump. The 50-percent increase in pressure allows the firm to process thicker material and increase cutting speed on thin work, while maintaining edge-and surface-quality tolerances.

"For example," shares JC, "cutting 1-in,-thick GPO 3 (a fiberglass-reinforced thermoset polyester material), at 60 KSI we can run at 7 in./min. and achieve the required very-fine surface finish. Increasing pressure to 90 KSI, we cut at 32 in./min."

The Mitsubishi gantry-style cutting machine features linear-motor guides driven by brushless AC servo motors capable of rapid positioning speeds to 787 in./min., quite an upgrade from Twinco's original belt-driven waterjet machine. Maximum workpiece size is 6 by 10 ft. Of Twinco's diverse mix of workpiece materials, 75 percent of what it cuts on the waterjet machine is metallic, and half of that is stainless steel.

"We also run a lot of aluminum, as well as copper busbar parts," says JC. "Our sweet spot is in the 1/4- to 1-in. thickness range, although we can cut stainless steel, aluminum and copper to 2 in. thick."

KMT rates its 60-hp 90-KSI pump as capable of cutting 0.5-in. stainless at 18 in./min., 1-in. stainless at 7 in./min., and 2-in. stainless at 2.5 in./min. Maximum cutting speed on aluminum alloys: 55 in./min. for 0.5-in. plate, 21 in./min. on 1-in. plate, and 8 in./min. on 2-in. plate.

A key feature that drew Twinco to the Mitsubishi machine, according to the Schatzes, is its four-axis Intelligent Taper Control (ITC) feature. "We're often expected to hold tolerances to ±0.001 to 0.002 in.," says the elder Schatz, "and we rely on the machine's ITC feature to make that possible."

According to Mitsubishi, ITC provides 360-deg. taper control by adding a 1- to 2-deg. mechanical tilt to the cutting head. This tilt compensates for the waterjet widening as it exits the focus tube. The firm notes that this allows a wall-straightness tolerance of ±0.001 in. per ½-in. of workpiece thickness.

iPhone Monitoring for Lights-Out Cutting

Since cutting of thicker work runs relatively slowly, and processing nested, large plates can take as long as 24 hr., the Schatz's are experimenting with running the machine unmanned, after hours. "We installed a webcam that allows us to view machine operation on our iPhones," says JC Schatz.

MF
See also: MC Machinery Systems, KMT Waterjet Systems
Related Enterprise Zones: Fabrication
---
Reader Comments
Posted by: Kay on 12/23/2017 9:33:53 PM - URL: http://wildhunter.club/
Every weekend i used to visit this web site, as i want enjoyment, for the reason that this this site conations genuinely fastidious funny material too.
---
Visit Our Sponsors