Tooling Article
Why Choose In-Die Welding?
Monday, September 1, 2008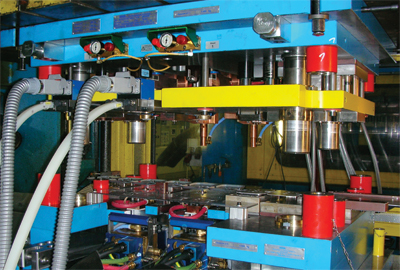 This die is outfitted with equipment for nut insertion via welding onto a progressive strip. In-die welding for such applications can save big money for stampers over traditional secondary welding operations given sufficient part volumes.




The best path from point A to point B is a straight line. Obviously, that's the shortest distance and most direct route—with no detours along the . An ideal lean stamping operation will have similar attributes. The ultimate—material into the press, finished parts and components exiting the press. Given sufficient volumes and efficient technology, many secondary operations—those pesky detours that eat up time, productivity and profit—can be incorporated into press work via in-die operations. In-die welding is an excellent example. The payoff to eliminating welding as a secondary operation: higher productivity, higher quality and simplified scheduling.
Technology exists to join parts and add fasteners within the press bed, with welding units and accompanying automation tuned to the press stroke and fitted into the die framework. The key is marrying this technology with the right jobs.
Myriad Advantages
For insertion of nuts to sheetmetal parts, for example, in-die welding boasts numerous advantages over secondary joining operations. Labor is a major cost savings as in-die welding and automated delivery of nuts to the weld unit eliminate the need for shop-floor personnel to handle parts out of the press, deliver them to a secondary station, set up the parts, place the nuts and perform welding. Even given automated welding, labor is needed to reach that point.
Also, secondary welding eats up floorspace, a major consideration in many tightly packed metalforming shops. Consider the amount of space needed to house a full secondary operation. Then consider how such space must be freed up near the press—premium space to be sure—to help minimize part transport after forming. Transport is another issue. How much time is wasted while parts route to a different area of the shop or even to an outside vendor and back? In-die welding can eliminate all of that.
Energy costs, a huge issue these days, rise as secondary operations such as nut welding demand their own power sources. The meter already is running on the press line, so energy use is minimized if operations can be piggybacked there. And being automated, in-die welding offers a quality advantage over manual secondary welding.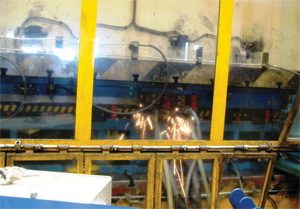 Spanish company Gestamp MB Navarra, a Tier One supplier to Mercedes-Benz, employs in-die welding (shown here) on multiple dies. In one case, the company
estimates cost savings of as much as $0.18/part over stamping followed by secondary welding for nut insertion.
The repeatable process ensures high-quality joining part after part, with setup standardized and stored for each job. Sensors can verify nut presence and that welding has been performed, and process parameters for each weld can be stored for analysis.
Comparison Shows Potential Savings
Ocon Automated Systems, Barcelona, Spain, provides comparison information that points to the potential savings of in-die welding. The company offers patented in-die welding units for resistance welding of nuts and bolts. The units, available for retrofit or installation in new progressive, transfer or tandem dies, can weld at press speeds to 60 strokes/min. and can weld from above, below and even on cams.
Suppose Company A and Company B use progressive tooling to produce two-out parts at the rate of 70 parts/min. Company A performs secondary semi-automatic welding at the rate of 6 parts/min. while Company B opts for in-die welding. With the job requiring 1 million press strokes,
Company A must spend 5500 hr. (three operators across three shifts) to complete it on time. Company B requires only 476 hr. of job time. Setup and ancillary work are not included in these calculations.
Company A spent $104,000 for the progressive die along with nut-feeding and welding equipment, while Company B spent $230,000—$55,000 for the die, $35,000 for nut-feeding equipment and $140,000 for three in-die-weld units and related machinery. Though initial cost for stamping plus in-die welding cost $126,000 more than stamping and welding as a secondary process, labor costs at Company A eat up that initial savings. Using Company A as a baseline, Company B can pay off its in-die-welding investment in approximately half a year.
As Ocon officials note, cost savings depend primarily on the weight/ dimension of the part and the number of parts to be produced. If in-die welding saves $0.15 per nut, with, say, 330 nuts in a family of parts for the same automobile, the process would save $50 per automobile for the metalformer.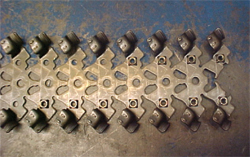 This progressive strip shows how in-die welding is employed at Gestamp MB Navarra to fasten nuts. The process also works in transfer dies.

Mercedes-Benz Supplier Makes the Switch
Impressed with in-die-welding advantages and ROI timeframes, Gestamp MB Navarra, a unit of Tier One automotive supplier Gestamp, runs Ocon units on some of its stamping presses in Spain.
Ocon's welding units, 70 mm thick, accept nuts, bolts and studs from the company's feeders. Each welding unit is controlled by a welding cabinet, featuring adaptive medium-frequency timers. The welding units have inputs and outputs for communication with the press and welding cabinet. The welding and feeding cabinet rests on wheels to facilitate movement from press to press, with simple connection via multi-connectors allowing the feeder to be changed in less than 5 min. Different feeders can be connected for applications where more than four elements are needed.
The Mercedes-Benz supplier inserts 17 million nuts and bolts annually, according to Fernando Napal, Gestamp MB Navarra technical director, so it needs an efficient insertion method.
It purchased its first Ocon in-die-welding unit three years ago, for a small progressive die that produces two-out shock-absorber parts. Prior to in-die welding, the metalformer manually placed parts into dedicated secondary welding machines. These units allowed nut insertion at a rate of 425-700 parts/hr. for similar parts, but the two-out prog. die churns out 2600 parts/hr, stamped and nut-welded. Napal estimates a cost savings of about $0.18 per part using in-die welding in the application. MF
See also: OCON Automated Systems S.L.
Related Enterprise Zones: Welding
---
Reader Comments
Posted by: Emilia on 6/27/2017 10:16:46 AM - URL: http://weldingonlineshop.com/
I like the valuable info you provide in your articles. I'll bookmark your weblog and check again here regularly. I'm quite certain I'll learn plenty of new stuff right here! Best of luck for the next!
---
Posted by: janet Ganther on 9/6/2013 1:29:15 PM
Do you need to use special cutting presses for this in die welding.
---
Visit Our Sponsors