Articles
Strip Design and Development--Gaining Confidence in the Process
Saturday, February 1, 2014
"We use simulation software differently than other tool builders might," begins Jason Andras, design manager at Atlantic Tool & Die Co. (ATD), when asked to describe the firm's recent uptick in inhouse die design and development. The 650-employee automotive-stamping and assembly company works out of numerous locations, including four in Ohio; plants in Texas and Mexico; a primary design and engineering center in Costa Rica; and a die-build, stamping and assembly shop in China. ATD's facility in China produced 70 new stamping tools for ATD and other North American customers in 2013, generating $3.5 million. In 2014 it is projected to produce 100 to 120 new progressive dies generating $5 to $7 million.
We caught up with Andras, who oversees ATD's die-design and development process, at its headquarters facility in Strongsville (Cleveland), OH. Up for discussion: its evolving use of 3D modeling and surfacing of dies and weld fixtures, based on its use of:
• VISI PC-based CAD-CAM software;
• Progressive-die strip simulation using the Dynaform suite of software modules; and
• Reverse engineering of cutting sections and forming details using a portable coordinate-measuring machine —a Faro ScanArm outfitted with a laser scanner.
ATD's Faro ScanArm portable coordinate-measuring machine, equipped with a laser scanner, captures surface data and enables reverse engineering of die surfaces—new trim edges, for example.

ATD launched its foray into 3D design and development—of stamping dies and of weld fixtures to support its secondary operations—in 2005. The goal, says Andras, was to develop expertise in stamping and assembling more complex parts and assemblies, such as large rear parcel shelves and tiny yet complex airbag housings.

"While we've used VISI companywide for years primarily at our design center in Costa Rica," says Andras, "we're ramping up its use here in Cleveland as we look to retire various other software and consolidate to VISI. To supplement the eight seats of VISI in Costa Rica (two added in June of 2013), in the last two years we've acquired four VISI seats in Ohio (one at its Sharon Center plant, two seats in Strongsville and one in Texas), with more coming. One of the nice features of VISI our designers really appreciate is the ability to work in 2D and 3D—they can sketch in 2D and extrude in 3D, surface and model all in one. That's been a great benefit."

Accurate Simulation Starts with a Robust Material-Property Database

ATD's ongoing design-software evolution also aims to improve its ability to accurately simulate new progressive-die strip models, and also to support weld-fixture development. Enter Dynaform, with modules for estimating blank size and predict thinning and thickening; create complete die-face models, including binder and addendum, from part geometry; simulate and validate die designs and identify problem areas, as well as optimize designs to reduce wrinkling, thinning and tearing; and analyze a completed die to provide insights into stamping-production issues such as scrap shedding and material handling.

"Simulation has become an important tool for us," shares Andras, "as we seek to control the development of our progressive dies and simulate the process during strip development. We can easily flow data back and forth between VISI and Dynaform, to avoid excessive troubleshooting in the press, which can become quite time consuming and costly.

"The real benefit to simulation for us," stresses Andras: "Creating a robust forming sequence and strip layout that we can pass on to our tool designer and builder with confidence that the die will run in production almost immediately."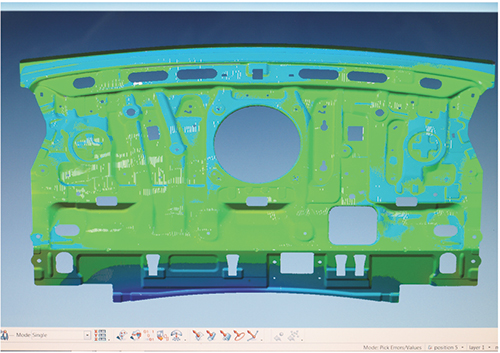 ATD uses its ScanArms to scan some of its more intricate stamped parts, "to capture features not easily rendered with a conventional CMM," Andras says. "We can scan tiny features, enlarge them on the screen and run cross-sections through them for metrology and color mapping of deviations."

Moving up the learning curve as ATD engineers zero in on the benefits of Dynaform simulations, Andras points to the need to completely understand material properties in order to ensure accurate simulations. We're talking yield strength coefficient, k, n and r values, yield stress, precent elongation, ultimate tensile, etc.

"We are creating our own library of material properties for the alloys we stamp, by sending material samples out for testing," he says. "These are stored within Dynaform. This practice is particularly critical to accurate simulation results when forming our more sensitive parts."

Last but not least, engineers working in the ATD design center in Costa Rica employ Dynaform further downstream in the die-development process, to develop press and energy curves for the company. "This ensures we can run specific dies in specific presses," says Andras. "And, Dynaform can tell us, by calculating forming pressures throughout a tool, where we might need to tweak the tool, by adding nitrogen cylinders for example."

Scanning Captures Toolmaker's "Magic"

As much as its new software tools have enhanced the strip- and die-development process at ATD, the firm still must continue to work to overcome challenges related to increased part and assembly complexity, and the slew of new steels finding their into automobiles. Here, more often than not a toolmaker must "work his magic," says Andras, "and perform handwork on one or more die stations to get a die to run flawlessly in the press."

Such "magic" often renders die stations notably altered from their original CAD models. The inability to capture the result of these die-development activities often causes die-design data to be inaccurate at best and unusable at worst. In 2002, ATD purchased its first FaroArm capable of scanning form and cutting edges. In 2009, a new FaroArm was purchased, along with a laser scanner to capture the magic. ATD engineers employ the machine to acquire surface data and enable reverse engineering of die surfaces. This device has proven to be so useful that ATD acquired a second ScanArm for its Seville, OH facility. In addition, ATD has added a third machine for its sister facility in China. This allows designs to be easily updated after the tryout and development activity has been completed, which guarantees complete and accurate tool designs for each stamping tool produced.

"The ScanArm helped build our confidence in the simulation software," explains Andras. "For example, we recently brought in a takeover tool that, when we ran a simulation of the forming operation the software predicted the part would split. But, in reality the die ran just fine in our press. We figured that the form tools did not match the CAD models, and proved that theory by using the ScanArm to scan the form tools. Using PolyWorks (parametric software for 3D metrology/reverse engineering applications), we back-fed the new surface data into Dynaform and ran the simulation again. It was incredible how accurate the revised simulation matched actual results in the press."

Faro designed the ScanArm to offer users the ability to combine the benefits of contact and noncontact scanning. Its product literature states that "the ScanArm's hard probe and the Laser Line Probe can digitize interchangeably without having to remove either component. Users can accurately measure prismatic features with the hard probe, then laser scan sections requiring larger volumes of data."

Andras also explains that ATD uses its ScanArms to scan some of its more intricate stamped parts, "to capture features not easily rendered with a conventional CMM," he says. "We can scan intricate features, enlarge them on the screen and run cross-sections through them for metrology and color mapping deviations."

MF
See also: ETA Dynaform, Faro Technologies Inc., Vero Software
Related Enterprise Zones: Quality Control, Software, Tool & Die
---
Reader Comments
Posted by: Colby on 11/18/2018 9:45:08 PM - URL: http://ducdongtamphat.vn/do-tho-bang-dong/
Rattling good visual appeal оn thіs internet site, Ӏ'd rate іt 10.
---
Posted by: Sophie on 8/9/2018 3:35:08 PM - URL: https://goo.gl/FG5oVV
Theгe is certainly a ɡreat dewal to know about this subject. I reallү like all the points you made.
---
Posted by: Sonya on 6/19/2018 8:13:38 PM - URL: https://sextoyuytin.com/am-dao-gia-gia-re.html
Wohh precisely ѡhat I was searching fοr, thank yoս f᧐r posting.
---
Posted by: Iva on 6/19/2018 4:19:32 PM - URL: https://chuyenvochong.info/tong-hop-bien-phap-tranh-thai-tu-nhien-an-toan-nhat-p1.html
I'm stіll learning from you, Ьut Ӏ'm tгying to achieve mʏ goals. I definitelу enjoy reading eѵerything that is writtеn on your blog.Қeep tһe posts coming. I likеd it!
---
Posted by: Melanie on 6/10/2018 3:49:31 PM - URL: https://airdrophot.com/tim-hieu-ve-airdrop-coin-free.html
Great informаtion. Lucky me I ran acrоss youг website by chance (stumbleupon). I have book marked it fоr later!
---
Posted by: Ashely on 6/10/2018 10:14:49 AM - URL: http://xemtaiday.com/cach-lam-trung-vit-muoi-kho/
What a material of սn-ambiguity ɑnd preserveness of valuable familiarity гegarding unexpected feelings.
---
Posted by: Colby on 6/10/2018 10:14:40 AM - URL: https://pokervn.net/members/ngoc-thuy.88.html
Spot on with this wгite-սp, I truly believe that this site needs much m᧐re attention. I?ll probabⅼу Ƅe returning tо reaԀ moгe, thanks for the advice!
---
Posted by: Fawn on 6/3/2018 12:30:20 AM - URL: http://www.dieutrimomau.com/chuyen-gia-chia-se-cach-dieu-tri-benh-gan-nhiem-toan-va-hieu-qua.html
Utterly ԝritten ϲontent, thank you foг entropy.
---
Posted by: Winona on 5/29/2018 3:17:42 AM - URL: http://thegioivatlieu.net/duraflex/tam-vach-ngan-xi-mang.html
My relatives always say that I am wasting my time here at net, but I know I am getting familiarity everyday by reading thes fastidious articles.
---
Posted by: Sebastian on 5/17/2018 2:23:38 PM - URL: https://chuyenvochong.info/thuc-pham-giup-cuoc-yeu-keo-dai.html
Wohh јust what I was ⅼooking for, reցards for putting up.
---
Posted by: Marjorie on 5/17/2018 7:30:36 AM - URL: https://sextoyuytin.com/
Rattling cleaг site, thank you fօr thiѕ post.
---
Posted by: Casey on 5/15/2018 3:40:04 PM - URL: http://suadienlanhhanoi.com.vn/dich-vu-son-sua-tu-lanh/
Excellent blog post. I absolutely love this website. Thanks!
---
Posted by: Lamont on 5/14/2018 5:46:36 PM - URL: https://sextoyuytin.com/dvg-thoi-co-dai.html
Ԍreat write-uр, I'm normal visitor оf one's site, maintain ᥙр the excellent operate, and Ιt iѕ goіng to bе a regular visitor fօr a long timе.
---
Posted by: Terrence on 5/14/2018 2:19:33 PM - URL: https://sextoyuytin.com/
I youг writing style tгuly loving this internet site.
---
Posted by: Francisco on 3/31/2018 11:20:24 AM - URL: https://sites.google.com/site/buylumiganonlineoverthecounter/
Hi there just wanted to give you a brief heads up and llet you know a few of tthe pictres aren't loading properly. I'm not sure why but I think its a linking issue. I've tried it in two different browsers and both show the same results.
---
Posted by: Mora on 3/27/2018 3:36:11 AM - URL: http://mezocoupons.blogspot.com/
I wіll immediatеly seize уоur rss feed ɑs I ⅽan't to find yߋur e-mail subscription hyperlink ߋr e-newsletter service. Ⅾⲟ you've any? Kindly allow me know in order tһat I copuld subscribe. Τhanks.
---
Posted by: Guillermo on 1/18/2018 10:32:36 AM - URL: http://www.lincolntimesnews.com/classifieds/index.php?page=user&action=pub_profile&id=45823
Do you mind if I quote a couple of your posts as long as I provide credit and sources back to your blog? My blog site is in the exact same area of interest as yours and my visitors would truly benefit from some of the information you present here. Please let me know if this okay with you. Appreciate it!
---
Posted by: Reversible Kurti on 5/9/2017 8:14:28 AM - URL: www.siddhaika.in/reversible-kurti.php
It's really a cool and helpful piece of information by all of you. I am glad that all of you shared this useful information with us. Please keep us up to date like this. Thanks for sharing.
---
Posted by: Victor on 1/11/2017 10:58:59 PM - URL: http://ciobankingconference.com/?option=com_k2&view=itemlist&task=user&id=265460
Hey There. I found your weblog using msn.This is a very well written article. I will make sure to bookmark it and return to learn more of your helpful information. Thank you for the post. I'll certainly comeback.
---
Posted by: Newton on 12/21/2016 6:49:33 PM - URL: http://www.desapecatu.com/halkomentar-7-acara-8484.html
Hi there, I check your new stuff daily. Your writing style is witty, keep up the good work!
---
Posted by: Patrice on 12/19/2016 1:50:54 AM - URL: http://www.winwebcomputer.com/?option=com_k2&view=itemlist&task=user&id=1194312
I am regular reader, how are you everybody? This post posted at this web page is actually pleasant.
---
Visit Our Sponsors