Key-Exchange Unit Avoids Dirt Trap
August 2, 2011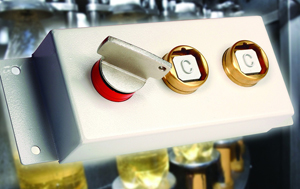 Key-exchange units from Castell, Chicago, IL, form part of an integrated safety system linking machine control and access interlocks. The firm's new X-type key-exchange unit boasts a robust design, configured to trap and release keys in a predetermined sequence, depending on the operating requirements of the safety interlocking system. The X box can have multiple keys entering or withdrawing, and can be supplied in numerous configurations: one key to release three, six keys to release four, or any combination to suit the operating sequence of a particular machine.
The new unit's design proves ergonomic and durable. The fully welded enclosure optimizes rigidity, and the newly designed rear-mounted locks have no visible fixing holes, reducing opportunities for dirt to become trapped and interfere with operation.
The unit is fully compatible with previous FS lock types and has identical dimensions to Castell's earlier X-type exchange unit, allowing it to be retrofitted to existing interlocking systems.
Castell: 312/360-1516; www.castell.com
See also: Castell Interlocks Inc.
Technologies: Safety