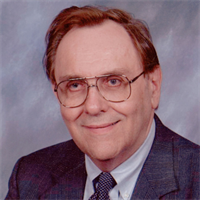 Stuart Keeler
Ten Reasons Why I Hate Stretch Gradients
November 1, 2014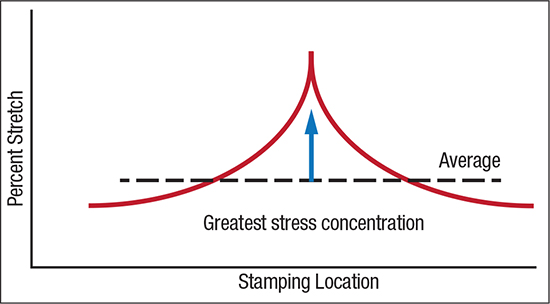 Fig. 1—The concentration of high stress will cause a narrow band of high stretch, called a gradient, to form.

What is a gradient? Localizations of deformation can occur in a stamping due to part geometry, sharp radii and other features with very narrow width and generally long lengths. Fig. 1 illustrates one typical stretch gradient where a high concentration of stress is needed to force a local deformation much greater than the surrounding areas.

The same gradients can be created by the tool design or build process. Examples include a deep-drawn cup with a chamfered bottom radius for easy locating in the next die; a deep-drawn cup designed with a bottom radius that does not merge tangentially with the vertical wall and develops a sharp edge at the merger line; and die segments that are not aligned or flush in all directions. The list of gradient sources is long.

Problems caused by stretch gradients require extra work, cost and time. Examples include:

1) The higher stresses required to form the stamping ge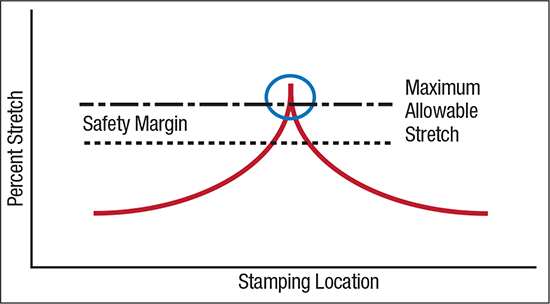 Fig. 2—High values of localized stretch can exceed the maximum allowable stretch (FLC) and initiate failure.

ometry need added energy. This extra energy develops a thermal hot zone, which changes the coefficient of friction, the amount of stretch and stamping dimensions during production.

2) Higher forming stresses contain more elastic stresses. Releasing the forming force then causes added springback and dimensional changes.

3) In addition to changes in springback, the formed geometry of the stamping now prevents the total release of all elastic stresses. Therefore, residual (trapped) stresses remain in the stamping like a coiled spring, ready to make unpredictable shape and dimensional changes if additional process changes are made. All too often, forming the geometry of the stamping will cause the stretch level to reach or exceed the forming limit curve (FLC). This happens when a severe stretch gradient develops (Fig. 2).