A Different Look at Rules of Friction
October 1, 2008
Last month's column described five types of friction tests that simulated five common forming modes. Over 180 sets of tests were run to evaluate each steel/lubricant combination for six steel surfaces/coatings and six lubricants, with each of the five friction tests. At first glance, the tests simply yielded 180 different coefficients of friction (COF). Closer evaluation of the data, however, reveals two distinct groups of forming modes that responded in opposite direction to the lubricants.The first group of forming modes contains the Strip Pull test (flat binder sliding), Draw Bead Simulator (multiple bend/unbend) and Die Radius Friction test (single bend/unbend). These forming modes duplicate steady-state conditions. An element of sheetmetal with its lubricant enters the deformation zone, performs its function and then exits the deformation zone. A new element with new lubricant follows the "spent" element. In addition to als having a fresh supply of material and lubricant, the deformation rate is rapid.
The second group of forming modes contains the Punch Radius test (flat-bottom-punch radius) and Hemispherical Rotation test (punch stretching). In contrast to the first group, the initial material and lubricant in the deformation zone remain in contact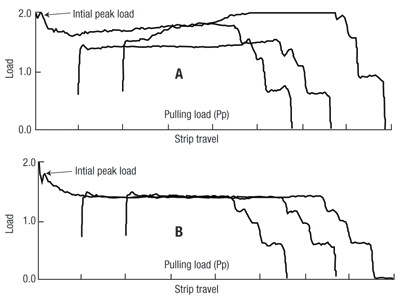 Fig. 1—Three consecutive Draw Bead Simulator tests in Fig. 1A show nonconstant pulling force for sheetmetal with no lubricant. In Fig. 1B, a small amount of poor rust-preventive liquid eliminates the pull-load variability.
with the die and fresh material or lubricant is unavailable. In addition, the rate of deformation is much slower relative to the first group. The data also show that an excellent lubricant for group one is not the best for group two and vice-versa. Attempting to correct lubrication problems in one group of forming modes may result in transferring the problem to the other group of forming modes.
Other lubrication studies have provided useful press-shop data. One misconception is that not adding a lubricant at the press shop is running the part dry. If the part were truly dry, the steel would be colored red. The rust-preventive solution added as the final step at the metal processor is a lubricant—though most likely one with poor friction conditions. Application of better-quality lubricants is possible depending on supplier capabilities.