Cobot Setup Offers Pick-and-Place for Material and Product Specimens
April 29, 2020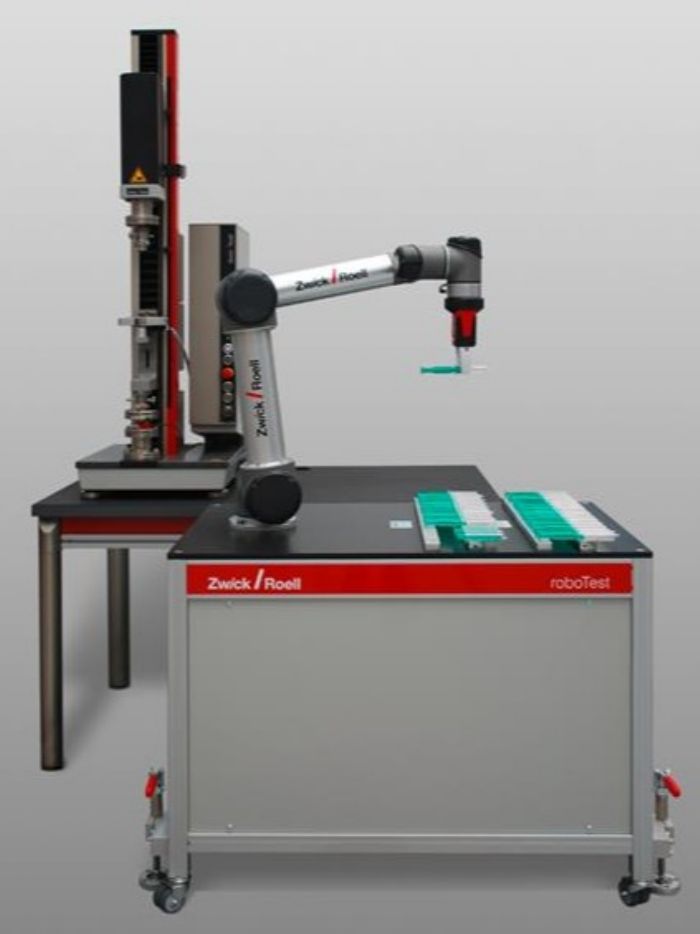 ZwickRoell offers roboTest N, a collaborative six-axis robot (cobot) that enables automatic feed and disposal of test specimens when using material- and product-testing machines. With safety features built into the arm itself, no safety enclosures are required, enabling the automatic system to be installed (on new and existing machines) and operated easily and within proximity to humans.
The roboTest line comes in a variety of capacities, with the N model, showcased by ZwickRoell in an online demonstration this April, capable of tending function-, tensile- and flexure-test machines that provide forces to 20 kN. It provides full automation for small series testing and can be integrated with specimen cartridges, all helping to relieve qualified personnel for other tasks.
The cobot fully integrates with ZwickRoell's
autoEdition3 automation software
and can be used without a robot operator panel. Special knowledge of robot programming or operations is not required. Testing and results can be viewed remotely, and autoEdition 3 will send texts/emails for errors, special conditions, job status, etc. And, portability enables roboTest cobots to be moved easily to other machines. ZwickRoell will consult and provide options for interchangeable gripper fingers suited to specific applications.
See also: Zwick Usa
Technologies: Quality Control