New CTL Line Combines Servo Feed with Hydraulic Shear
January 1, 2013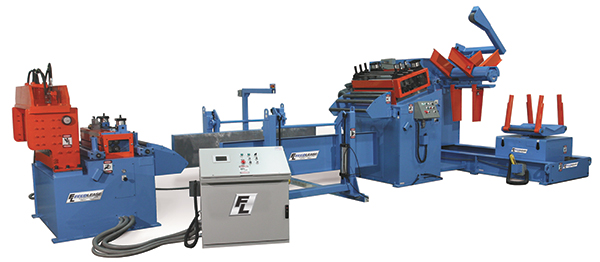 Feed Lease Corp., Rochester Hills, MI, has unveiled its newest cut-to-length line, combining a cabinet-mounted servo feed with a hydraulic production shear. The line features a maximum stock width of 36 in., with a maximum thickness of 0.090-in. mild steel at 36-in. width. The line controller comprises a closed-loop, self-diagnostic, brushless servo-drive system that offers a four-roll entrance curve section, a four-function two-button remote control, and manually adjusted 2¼-in.-dia. entrance vertical guides. A set of 4-in.-dia. full width, hardened, matte-chrome finished feed rolls mount on lubricated and sealed spherical roller bearings—no need for bearing lubrication.
The upper feed roll is operated by air cylinder with a solenoid valve, and a mechanically adjusted setup manipulates the openings of the feed rolls, limiting roll travel. Being able to control the feed roll saves time and can be crucial in high-speed applications, say company officials.
The upper roll is driven by a cluster-gear assembly that compensates for the full mesh of gear teeth for stock thickness, while a servo motor with a precision gearbox and synchronous timing belt and sprockets runs the lower feed roll. Power to the upper roll comes via a cluster-gear arrangement from the lower roll.
The line features a single gate entrance threading designed to support and guide the leading edge of the material toward the feeding equipment upon exiting the seven-roll powered straightener.
Feed Lease Corp.: 248/852-6660; www.feedlease.com
See also: Universal Feed & Machine, Inc.
Technologies: Stamping Presses