Designing for Dollars
May 1, 2014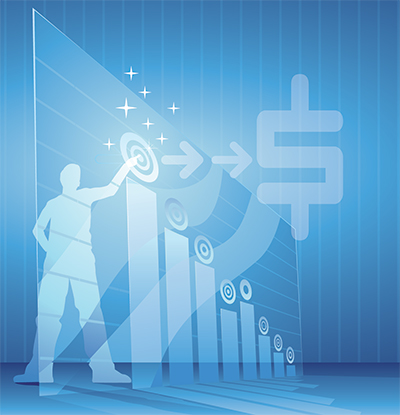 Do your die-design and forming-simulation efforts, or those of the companies you select to undertake these tasks, keep up with the times?
Thirty years ago, lead time from tool-design start to first-part off stretched from 14 to 20 weeks, even for simple parts and tooling. Today, with a huge assist from die-design and forming-simulation software, eight weeks is the norm, with four weeks not unheard of.
Lead-time reduction is just one area of evolution in the software realm. Accuracy is another, and the list goes on. With such software going mainstream, how can it be best employed moving forward?
Each spring, MetalForming presents a roundup of the latest and greatest in die design and simulation for the metal-stamping process. The articles show that as these technologies continue to improve, they deliver huge cost savings to metal stampers. We present these articles in conjunction with our annual Die Design and Simulation Software Experience (www.metalformingmagazine.com/diedesign), organized by MetalForming and slated for May 28-29, 2014, in Rosemont (Chicago), IL.
Given the ever-challenging business environment for manufacturers, we've surveyed leading software suppliers on how improved die-design and simulation processes can influence the bottom line of tool builders and stampers, and their customers.
Hire This Guy
Consider investing in software for the design-build process, urges Ray Proeber, president of Accurate Die Design Inc., New Berlin, WI, the North American technical center and master distributor for Logopress3 3D die-design software from Logopress Corp. and also a reseller of forming-simulation software from Forming Technologies Inc.
Says Proeber: "We as humans don't think as efficiently or as accurately as computers. Some very seasoned toolmakers do an admirable job of predicting the future based on their experience along. But plenty of smart people have conducted mounds of research and performed years of testing, and they've programmed software with more accurate parameters than anyone can pull out of their brains. With advanced software available today, you are using proven science."
Wear your human-resources hat, instructs Proeber, and the case for die-design and simulation software strengthens.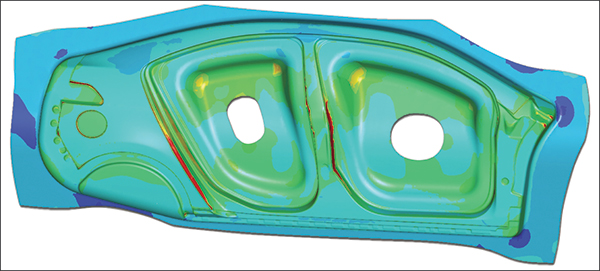 This thickness map, provided by ETA, shows how software can predict the thickness of a stamped part—just one of many capabilities available in forming-simulation software.

"Suppose you interview someone who is unbelievably accurate about toolmaking and forming predictions, and knows if something is formable just by looking at a part print," he says, "and also can accurately predict the flat-blank size. If you could hire this person, who will positively affect every employee and process in the shop and can predict the future, for $25,000 per year (roughly the cost of a formidable simulation/design software setup), would you do it? You can have the software for half the cost of a human employee. In addition, the software makes employees and processes, even quoting, much more accurate and efficient."

That's a compelling argument, and Proeber shares an experience highlighting the value of a 'hire' like this.


"A metal stamper quoted a die to make a part complete in a progressive die, and when it tried to stamp the part it had major problems," he relates. "The part could not be produced with the planned process in the die. Plans called for a draw station after material had already been cut a. But, in reality the material needed to be cut a after drawing. The tool builder had to rework and simplify the progressive die, and add a four-station secondary die to complete the part. More than $100,000 was lost by the tool-and-die builder, the stamper and the OEM customer. Meanwhile, a $5000 simulation-software package (equivalent to a part-time employee, or perhaps a summer intern) would have caught the problem upfront and enabled the designer to develop an ideal process instead."

This employee also works well with others, Proeber points out.