Getting Ahead of the Maintenance Curve
"Slashing die-change times from hours to just minutes made a huge impact on scheduling and lead times, and simplified our ability to manage the visual manufacturing process, continues Butler. "Also, back at that time we could never get ahead from a die-maintenance standpoint. We'd spend $15,000 or more per month repairing broken dies, and experience as many as 20 mishits or crashes each month."
Butler and his team had installed a die-protection program at the time, but he feels they had taken it as far as they could have with their current press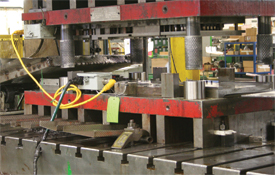 One of Clairon Metals' fully sensored dies ready for action—parts eject at the top of each stroke onto a mechanical unloader. The die includes short-feed sensing, ejection cylinders are monitored at each of the stroke. Form punches are sensored to ensure part ejection, and a through-beam sensor covers the lower die to catch parts if they fall into the die


Throughout 2006, Butler and his team retrofitted 10 of its highest-output coil-fed presses with the Cieco units, upgrading two presses every six weeks to avoid interfering with production. "We went through a learning curve with Cieco's technicians," Butler says, "and working together we identified several s to customize the controls to best-fit our needs. For example, they switched out the capacitive-type monitors on the controls with resistive monitors, to better resist the rigors of the pressroom."

Other custom upgrades at the time (which have now become standard features on the controls) include an auto-logout feature so that if no one accesses a controller within a 5-min. timeframe, the control locks out access to prevent someone from changing any settings on the control. "And, we asked for the ability to set 250 individual passwords for access to the control," says Butler, "rather than the standard 50 passwords."

Butler quickly went to work taking advantage of the new-found die sensor capacity, using automation control inputs to direct all of the action in and around each press cell, including:

• Pulse-spraying of lubricant;

• Operation of pick-and-place part-handling automation devices


Clairon's in-die sensing program, ramped up since it installed new controls on its 10 hardest-working presses, slashed die-repair costs from $69,000 in 2008 to $28,000 in 2009, and this the firm expects that figure to drop all the to under $5000

• Shaker-conveyor action.
"Most of our dies have at least five or six sensors," he says. "Die crashes are down, to a maximum of one or two per month, a huge improvement from the double-digit monthly die crashes the firm once endures. "And now when a press stops, everything else stops as well," says Butler. "Not so long ago we were averaging 40 man-hr./day for die maintenance; that's now down to just 5 hr./day."
Save a Press—Monitor Tonnage
The controls' tonnage-monitoring capabilities are in full display at Clairon Metals, too. Tracking tonnage has allowed the firm to relocate several tools to different presses to avoid impending press damage.
"It's amazing how one relatively simple and affordable change like new press controls can change everything you do in your facility," says Butler. "With tonnage monitoring, we've been able to treat any press-overload cases like corrective actions. Doing so, we've avoided any ram-adjustment issues and failures in areas such as tie rods and counterbalance rods. We also use the data from the monitors to take a proactive approach to scheduling preventive-maintenance activities, such as tool sharpening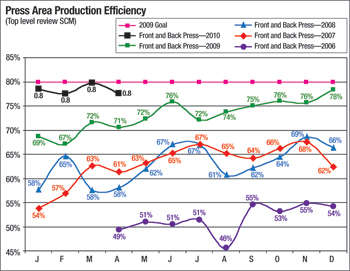 The domino effect from Clairon Metal's ongoing improvements is best illustrated by this graph of production efficiency, which has climbed from barely 50 percent in 2006 to near 80 percent today.
Not content to rest on its impressive 4-plus-year track record of continuous improvement, Clairon's on a mission to keep pushing for more. Among its most recent improvements, says Butler: "We're focusing on streamlining our troubleshooting procedures at the press. When a die-maintenance technician goes out to a press to address a problem, he's now got 30 min. to decide whether to pull the tool or repair it in the press. We've developed specific guidelines for them to follow so that they make those decisions more quickly and, in the end, make sure our presses are running at the highest level of productivity possible."
And the dominos keep falling… MF
See also: CIECO, Inc.
Technologies: Sensing/Electronics/IOT