Visual Warnings, via New Stack Light Lamps
May 1, 2011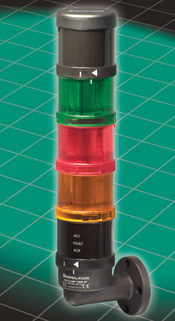 Pepperl+Fuchs, Twinsburg, OH, introduces the VAZ-Lamp series of stack lights, designed to complement the company's extensive line of industrial-grade stack light LEDs, audible alarms and related accessories. VAZ-Lamp stack lights provide low-cost visual warnings or ready-status indication in applications where LED-lit stack lights prove too costly. The stack lights—blue, green, clear, yellow and red—are lit by an incandescent bulb. Should a bulb burn out, it can quickly and easily be replaced for a few dollars, rather than having to replace the entire stack light. Stack the bulbs up to four-high using a Pepperl+Fuchs' As-Interface light tower module, or use them as a stand-alone solution stacked up to five lights high.
Pepperl+Fuchs: 330/486-0001; www.pepperl-fuchs.us
See also: Pepperl+Fuchs, Inc.
Technologies: Safety