Stack Lights With Text and Symbol Options
January 23, 2019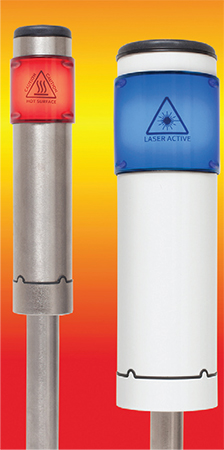 Onyx Industries introduced its customizable stack lights with backlit text and symbol options for safety-awareness indication. The LED indicators satisfy ANSI B11.19-2010 section 9.2 requirements by effectively alerting machine operators and plant personnel to these potential hazards:
Exposed pinch points

High-power lasers

Active heat zones.
Available in 1.5-in./40-mm to 2.57-in./65-mm dia. indicators, with standard height lenses and stainless-steel housing, the stack lights serve the safety needs of machine builders and safety-improvement initiatives.
The backlit text and symbol option clearly communicates messages. For example, a blue indicator incorporates the IEC laser symbol with text below showing "Laser Active." Also, the backlit text and symbol option is important due to the prevalence of color blindness (to 10 percent in males for red/green).
Available features and options include:
Red/yellow/green/blue/white LED lights

304 stainless-steel housing, plated aluminum base

24V DC (sink or source), 115V AC, 230V AC

Custom powder-coating

6-, 12- or 30-ft. PVC jacketed cable or M12 QD connector, or customer specified

Backlit text option to call out indicator message.
In addition to the backlit text and symbols, options include audible safety-hazard buzzers, as well as custom finishes and connectors.

See also: Onyx Industries
Technologies: Safety