Protect Welders from Hexavalent Chromium Fumes
August 1, 2011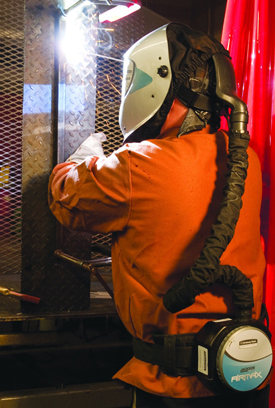 Welders can obtain affordable protection from harmful particulate contaminants—particularly hexavalent chromium fumes—with the new Jackson Safety brand R60 Airmax powered air-purifying respirator (PAPR) from Kimberly-Clark Professional, Roswell, GA. The new PAPR features a NIOSH-approved HE filter for particulate contaminants, which can be easily set and locked into place.
The Airmax comes with fully adjustable headgear and a welding helmet featuring a Jackson Safety W40 series variable auto-darkening filter (ADF). The ADF automatically detects the welding arc and switches to the appropriate welding shade, adjustable to shade 9-13 with a light shade of 4. The variable ADF is ideal for all arc-welding processes.
A flame-retardant face seal around the welding helmet protects welders from sparks, and the helmet's shape helps to prevent embers from sitting on the shell. The unit's breathing hose is flame retardant and extends 35 in. for optimum flexibility.
Powered by a lightweight, 8-hr. lithium-ion battery, the compact blower unit has a wide, adjustable waist belt. An audible alarm signals the user when a new filter or battery charge is needed.
Kimberly-Clark Professional:
888/346-4652; www.kc-safety.com
See also: Kimberly-Clark Corporation
Technologies: Safety, Welding and Joining