Laser Scanner Proves Ideal for Point-of-Entry Protection
August 1, 2011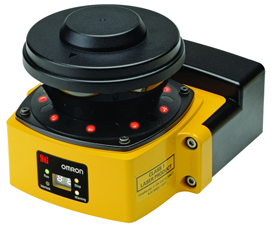 To guard point-of-entry and other locations where safety light curtains are either too large or may impair productivity, opt for the OS32C safety laser scanner from Omron Scientific Technologies Inc., Fremont, CA. Omron recently upgraded the unit to offer selectable 30-, 40-, 50- and 70-mm resolutions. Metalformers can mount the unit close to the pinch point, optimizing machine productivity and conserving floor space.
Further enhancing safety and productivity, the latest version (1.4.2) of the OS32C configuration tool enables users of the software to copy and paste zones and zone sets to significantly reduce programming time. It also offers record-system monitoring and playback to help users troubleshoot false nuisance intrusions, as well as configuration checksum functionality to help identify any program tampering after equipment has been commissioned. It provides troubleshooting tips in the fault log, and makes available additional zone shapes.
The OS32C features a compact 104.5-mm profile, weighs just 1.3 kg and consumes just 5 W of power. The scanner features a 270-deg. detection angle that enables a single scanner to provide presence detection, including two warning zones and one safety zone, on two sides of a machine. Its small size also allows use inside of a machine.
Omron Scientific Technologies, Inc.: 800/479-3658; www.sti.com
See also: Omron Scientific Technologies, Inc.
Technologies: Safety