Gloves Feature Conductive Yarn for Touchscreen Devices
February 1, 2014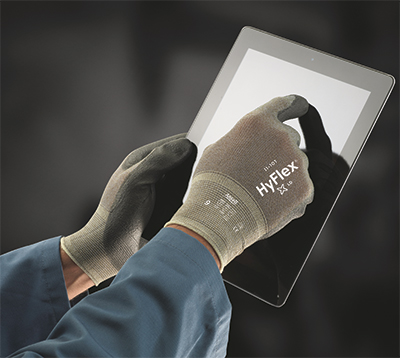 Ansell, Iselin, NJ, introduces HyFlex 11-101 and 11-105 protective gloves, manufactured with a special conductive yarn designed to allow interaction with touchscreen equipment without removing the gloves.
While the rapidly expanding use of touchscreen technology in the controls of manufacturing equipment allow operators to expedite data input and maintain schedules, safety regulations require that all workers move to safety zones before removing their gloves. HyFlex 11-101 and 11-105 gloves eliminate that wasteful process.
The conductive yarn fiber in the new HyFlex gloves leverages the electrical signals naturally generated by the human body to activate touchscreens. The yarn is woven with a layer of metal that provides conductivity between the fingertip and touchscreen so that workers need not remove their gloves.
The gloves are covered with a layer of polyurethane coating for enhanced sliding and finger movement, and feature different dipping styles to meet specific user needs. Style 11-101 is palm-dipped for optimum mechanical resistance and protection, while style 11-105 is finger-dipped for improved fit and flexibility.
Ansell: 800/800-0444;
www.ansell.com
See also: Ansell Healthcare
Technologies: Safety