Ergonomics in the Pressroom
October 1, 2007
This article is based on a presentation given by OSHA's Mary Bauer at the Precision Metalforming Association's Pressroom Safety Seminar, held last September in Eagan, MN. Bauer has spent the last 21 years as a compliance officer and compliance assistance specialist with OSHA in Eau Claire, WI.
In a manufacturing context, ergonomics is the science of fitting the job to the worker, designing equipment and work tasks to conform to the worker's capabilities. The goals of a comprehensive pressroom ergonomics plan should include the following: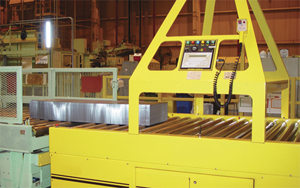 This radio-controlled cart transports blanks and automatically loads them onto a transfer press. Such a material-handling arrangement eliminates the need for workers to transport them in a potentially unsafe manner.

• Decrease ergonomic hazards;
• Reduce injuries and illnesses;