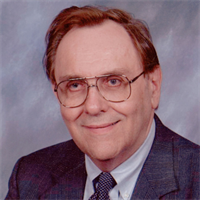 Stuart Keeler
Using an Ultrasonic Thickness Gauge to Solve Forming Problems
July 1, 2012
Last month we covered troubleshooting with statistical deformation control (SDC). This process uses standard control charts and forming-severity measurements (thickness strain) to assess the probability of splits. Using an ultrasonic-thickness gauge (UTG) permits rapid measurements without damaging the stampings.
Here I'll present five case studies to illustrate a simple process for tracking forming problems with a UTG, without generating control charts. Rather, the stamper takes a series of UTG measurements and plots them against time until a pattern or signature of forming severity becomes evident. Similar to SDC, two locations are measured—the most severe, based on the forming-limit diagram, and one with zero deformation. These allow calculation of thickness strain (severity) without premeasuring initial blank thickness.
Case Study 1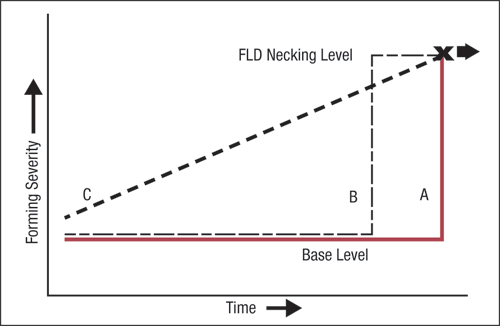 A stamping tears. The forming severity derived from the UTG measurement at the failure zone and at a zero-deformation zone in the stamping is plotted as X in the upper right-hand corner of the graph. This severity exceeds the onset of necking or failure level. The first analysis step: Measure several previous stampings to create a forming history.
Problem A: The previous stampings were at the base level. Attempts to make additional stampings resulted in identical failures. No known changes had been made to the forming system. Press and die inspection discovered a sudden die failure.
Problem B: Previous stampings were sampled from different racks until indentifying the time of the severity shift from base level to necking level. Going back to the press records, we learn that a change in sheetmetal coils occurred exactly at that time. Other sudden changes could include die or press maintenance, lubricant adjustment or a personnel change.
Problem C: The gradual increase in severity usually results from die or press wear, or some other slow change over an extended time.