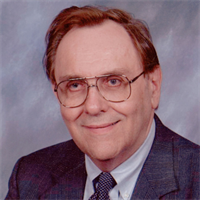 Stuart Keeler
Material Strengths Are Increasing, Are You Prepared?—Part 1
July 1, 2014
For decades, the maximum strength of traditional metal alloys remained stagnant because the product requirements were being met with traditional alloys. During the last decade or two the automotive industry has demanded higher and higher yield and tensile strengths, to meet new standards for fuel efficiency. Using thinner sheetmetal is one obvious approach to reducing vehicle weight and increasing efficiency, as the force capacity of sheetmetal is the product of strength and thickness. Reducing thickness by half and doubling the strength results in a constant force capacity.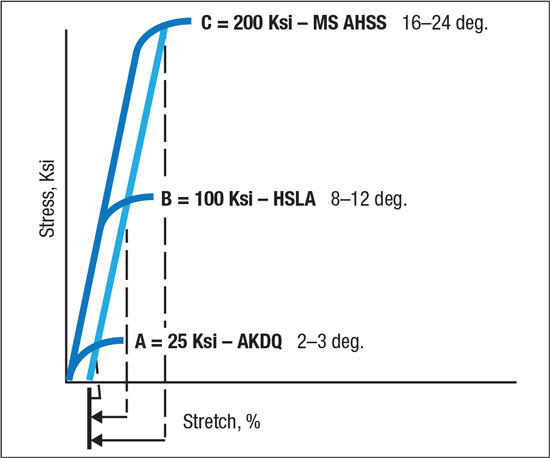 Fig. 1—The amount of springback is proportional to yield strength. The relative amounts are shown to the left of the Stretch, % label.
Sounds easy, until the structural engineer complains that the reduction in material thickness causes a reduction in stiffness—a function of the modulus of elasticity and the geometry of the stamped part. Increased material strength does not compensate for the reduced thickness, requiring a change to the part geometry. Even worse, the formability engineer faces a double reduction in many forms of deformation—stretchability for most metal alloys decreases as strength increases and thickness decreases.
Substituting a nonferrous alloy does not als require a reduction in thickness for weight reduction, due to the reduced density. However, the modulus of elasticity usually is one-third that of ferrous alloys, causing a reduced stiffness and greatly increased springback problem.
Increasing strength affects many aspects of metalforming, chief among them being springback when trying to hold stampings to print, given tighter and tighter dimensional specifications. Springback originates at the atomic cell, where atoms are held in place by very strong elastic stresses. Think of these stresses as a tension/compression spring, where applying a tensile force to the ends of the spring causes the spring to elongate and a compressive force causes shrinkage. Release the forces and the spring returns to its stable length. The atoms behave similarly.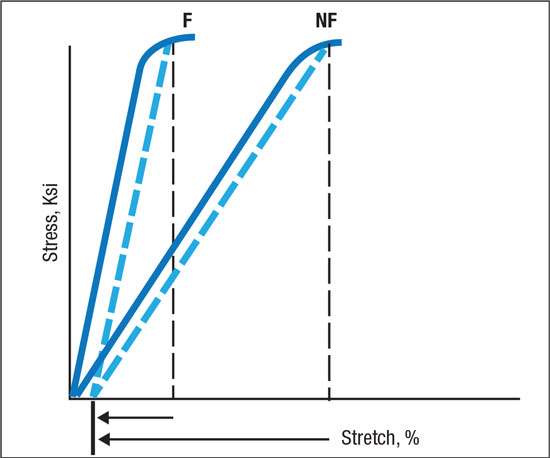 /td>
Fig. 2—The Modulus of Elasticity is 30 million for ferrous alloys and 10 million for most nonferrous alloys. The amount of springback is shown to the left of the Stretch, % label.
We obtain the force (stress) vs. deformation (strain) relationship (the Modulus of Elasticity) for these elastic stresses using a tensile test (Fig. 1). To obtain a yield strength (onset of plastic or permanent deformation), we draw a line parallel to the modulus line with an offset of 0.2-percent strain. Dropping a vertical line from the yield strength to the bottom axis shows the amount of elastic strain—proportional to the yield strength. If a bending operation springs back 2 to 3 deg. for a 25-ksi-yield-strength AKDQ steel, the potential springback increases to 8 to 12 deg. for a 100-ksi HSLA steel, and 16 to 24 deg. for a 200-ksi martensitic steel.
The Modulus of Elasticity shown in Fig. 1 is 30 million, common to ferritic steels. Fig. 2 also shows an elastic modulus of 10 million, common to nonferrous alloys. The threefold decrease in slope means that springback increases by a factor of three for the same yield-strength materials. Elastic modulus and yield strength provide a reasonable starting springback range for the unformed blank.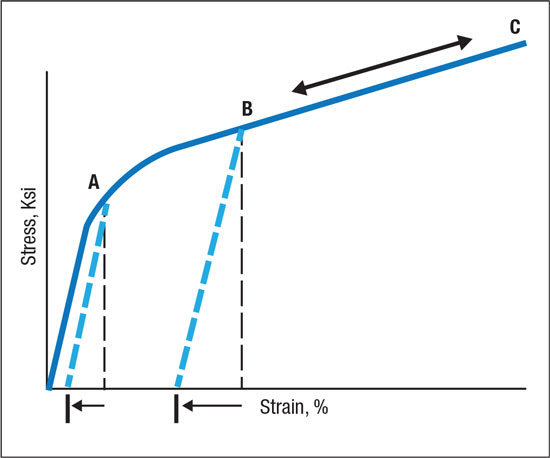 Fig. 3—Forming the stamping increases strength and residual stresses from A to B. Features such as strain gradients are prone to rapid and inconsistent additional increases (B to C) in strength and springback.
Unfortunately, deformation incurred when converting the blank into a final shape also affects springback, often with a disastrous ending. Fig. 3 shows that forming a blank from the start of plastic strain A to final shape B increases the strength of the sheetmetal and the amount of springback. Very few stampings have equal amounts of strain throughout the entire stamping, causing matching variations in springback. This usually makes it difficult to meet and hold shape specifications. Often, a local feature such as a character line or other location of concentrated stress will cause a sharp strain gradient. These gradients, highly sensitive to production conditions and which change constantly from B to C and all values in-between, cause dimensional variations during stamping.
Another important aspect of springback is residual (trapped) stresses (Fig. 4). The stamping attempts to return to its initial level of neutral stress, but plastic deformation has generated a shape that prevents the release of these stresses. The data shown in Fig. 4 indicates that half of the elastic stresses have been released, while the other half remains trapped within the stamping. These trapped stresses can be very dangerous, because residual stress patterns most likely will change when: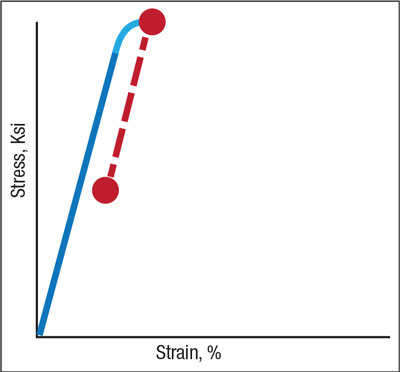 Fig. 4—Elastic stresses trapped within a stamping by its plastic formed shape can cause additional springback when released by further processing of the stamping.
• The part is removed from the die;
• Offal is trimmed;
• Holes or cutouts are punched;
• Additional forming is done;
• Brackets are welded to the part;
• The stamping is heattreated (or painted); or
• Stamping is dropped on the floor.
While unseen, residual stress release can cause severe changes in stamping dimensions. Higher elastic stresses in stronger materials increase the chance of major problems with residual stresses.
Next month, we'll look at additional forming problems connected with increasing sheetmetal strength.
MF
Technologies: Quality Control