Adding to the challenge, automakers have begun to require their suppliers to form and weld advanced high-strength steel (AHSS) alloys. Compared to welding mild steels, AHSS grades often require some research and development to determine the small window of acceptable RW machine settings that result in good weld-joint strength.

An additional challenge metal formers face when performing RW: Visual inspection of welds cannot typically ensure the required weld strength. Therefore, destructive testing often is required, unless shops opt to employ newer, state-of-the-art RW machine controls that include feedback circuits allowing the machine to compensate on the fly.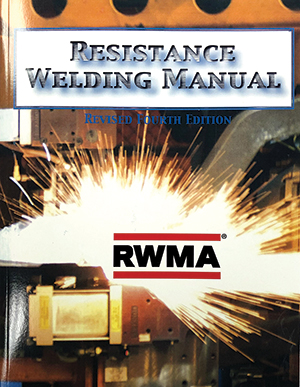 Metal formers looking to beef up their library of technical knowledge would be wise to invest in this revised 4th edition of the Resistance Welding Manual, available from AWS: pubs.aws.org/p/323.
The Seven Process Variations

When properly applied, the seven variations of the RW process continue to be the fastest, strongest and least expensive way to join stamped and fabricated sheet metal parts. And since some expensive automotive recalls have been traced to weak resistance welds, it's well worth promoting and certifying process knowledge.

The seven RW process variations addressed by the CRWT certification:

Resistance spot welding, used to join sheet metal stampings for products such as automobiles and appliances.

Resistance projection welding, often used to attach threaded nuts and studs to stampings.

Crossed-wire resistance welding, an ideal application of projection welding and widely used in manufacturing appliance racks and similar products.

Butt welding, also used by wire fabricators for end-to-end joints.

Flash-butt welding, used for parts with relatively large cross sections.

Roll seam welding, used to produce products such as ammunition boxes and automobile shock absorbers.

Resistance brazing, the seventh variation of the process, and the only one where material is added to the joint.



Feedback From Industry Leaders

Asked to comment on the new AWS CWRT certification, 2018-2019 RWMA Chairman Matt Post says, "Early in its nearly century-old history, RWMA recognized the need to offer formal education to individuals working in the resistance welding industry. This led the association to establish the RWMA Emmett A. Craig Resistance Welding School, a two-day classroom session developed to provide individuals and companies with RW process knowledge. The success of the school over many decades led to the initial RWMA Certified Resistance Welding Technician (CRWT) program to acknowledge those individuals who had achieved knowledge and expertise in the RW industry. Now, a decade after RWMA joined forces with AWS as a working subcommittee, the CRWT has gained great momentum. With both organizations working together, RW now will be recognized as an AWS Certification, officially launched in 2020."

Adds incoming RWMA chairman (for 2020-2022) Don DeCorte: "The existence of a true resistance welding credential is long overdue. The AWS CRWT certification will benefit the thousands of individuals who work with RW every day. In addition, the numerous companies that need to hire individuals who truly have a solid understanding of the process now will have a way to judge job applicants. Hiring a person who holds the AWS CRWT credential assures the employer that the individual has proven their proficiency through a known and proven AWS certification process. CRWT is a 'win-win' for the entire industry." MF

See also: T. J. Snow Company
Technologies: Quality Control, Welding and Joining