Programmable Robot Module
October 1, 2018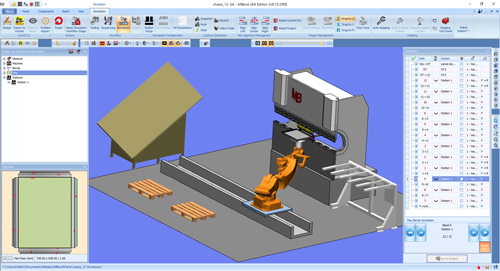 Metalix CAD/CAM Ltd.
Booth B9607
The MRobot module by Metalix enables programming and simulation of robot bending cells, using MBend software's existing automatic tooling and sequencing features. These features include fully automatic gripping and path calculations; interactive gripping and path control; coordinated simulation of robot and brake interaction; simple calibration; and creation of NC code for both machine and robot.
In addition, Metalix will spotlight its latest software releases:
cncKad and AutoNest support import of 3D parts and tubes, and provide an efficient and easy-to-use estimation module along with an array of nesting capabilities.

JobTrack features an intuitive-job tracking module with material management and job scheduling for orders.

The MBend application, for programming and simulating CNC press brakes, offers full support for multi-V dies, a new profile editor, optimized part opening and simulation-stages navigation.

MTube, for designing tubes, allows users to import CAD files and assemblies without the need for additional CAD software.



Technologies: Pressroom Automation